2016 Polaris
ATV & SxS Links
Westminster, MD (2/2/2015) -
Just over three months ago, ATVriders.com was selected as one of the ten media outlets to build a 2016 Polaris RZR XP Turbo for an online Virtual Show and Shine Contest, and in just over a month, with the help of some great companies we built the ultimate Patriotic theme Polaris RZR XP Turbo that was unlike any build we have ever seen before to show our American pride.  The Facebook online voting is now in its final three days of voting, and we couldn't be more excited about holding the lead in the final hours, but like any race, it isn't over till the end at Midnight central time, February 4th, so be sure to cast your vote, and here is the link: 
http://rzr.mn/WURsQt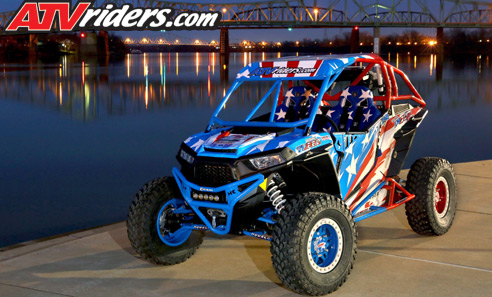 For the Polaris Virtual Show N Shine Contest we with with a one-of-a-kind Patriotic theme for our Polaris RZR XP Turbo Build, so be sure to cast your vote before February 4th: http://rzr.mn/WURsQt
While we have done plenty of builds over the years, this was our first time building up a Polaris RZR, which was an exciting new adventure.  While many of the other media outlets had already received their RZR several months before the contest was announced, we didn't receive ours till just under 50 days before the contest entry deadline of December 20th, which was already a busy time during the holiday season, but we were up to challenge, but it wouldn't have been possible if it wasn't for such great companies stepping up with short notice and making things happen with such a tight deadline.
Our Project build started with a brand new 2016 Polaris RZR XP Turbo
Before we even came up with our Patriotic theme, we ordered the Velocity Blue RZR Turbo, and it arrived just before Veterans Day and while we were brain storming on a plan, Paris France was hit by a terrorist attack. At the same time, the news was covered with constant elections updates and how to make America great again, which made us want to show our American Pride and reach out to companies that sell Made in the USA aftermarket products to make it a true American machine, which is why we called on some great companies like Houser Racing, Sparks Racing, OMF Wheels, Pit Bull Tires, East Coast Wraps, Hess Motorsports, Crash Addict, KC-HiLites, and Pro-Armor to help us with the build. While not every single parts was Made in the USA we added, we did our best to make it a true American project.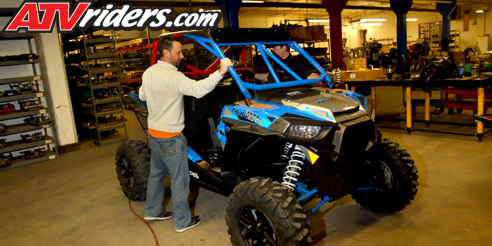 Jeff Houser stepped up first for the project build & provided many of their Houser Racing American Made parts & accessories
The first person that stepped up to help us with the build was Jeff Houser, Houser Racing, and within a week of talking  with Jeff on the phone, we drove to Ohio to begin the build at Houser Racing, and he helped us come up with the unique blue to red transition from front to rear, which we have never seen done before on a previous build.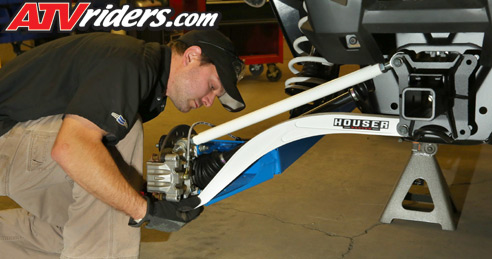 The Houser Racing crew was meticulous when working on the ATVriders.com Polaris RZR XP TURBO Project Build & their craftmanship shows