Quad of the Month - December 2012
Joe Rodaligo's Honda 450R Sport ATV
"Well, I finally made a switch over to Honda and love it. Always said I would never own a Honda. Also never felt right on a Honda, but after blowing a few trannys in my Suzuki LTR 450 ATV I decided to try something different and built this bike. A lot of time and money went into this, and could not have done it without Dynamite ATV, Walsh, SF racing and Tiger Racing products for all there support. Thank you for the votes!"
-Joe Rodaligo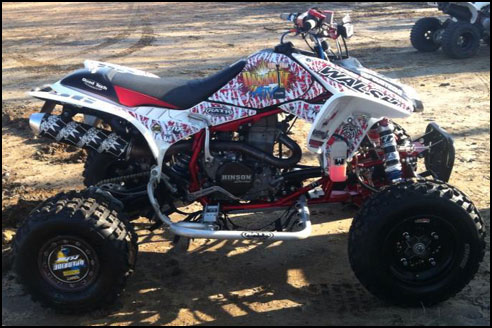 Chassis | Suspension | Controls:

Frame
Walsh
A Arms:
Walsh
Swingarm:
Walsh
Steering Stem:
Walsh
Stabilizer:
Gibson
Axle:
RPM d2 race hub
Carrier:
RPM
Locknut:
RPM
Hubs F|R:
tock
Bars:
Fasst Flexx
Throttle/ Clutch Lever::
ASV
Grips:
Pro Taper Pillow Top
Nerfs:
Rath
Bumper:
Rath
Grab Bar:
Blingstar
Front Shocks:
PEP PB1
Rear Shock:
PEP
Brake Lines:
Galfer
Rotors F|R:
Galfer wave front and back
Rims F|R:
DWT
Tires F|R:
DWT

Engine | Drive train:

Cylinder|Head:
Rage pro head
Bore & Stroke:
Stock, 13.5:1 CP race
Displacement:
450cc
Cam:
Web Cams
Carburetor:
43.5mm FCR
Air Filter|Box:
Walsh
Pipe|Silencer:
Rage
Clutch|Plates:
OEM
Gearing F|R:

13/37
CDI | Killswitch:
Pro Armor
Cooling:
Stock, no fan
Other:
Walsh overflow, Walsh gussted frame, LSR Rear caliper mount, Gutted harness, TRP Hood, Quad tech hump seat, Tokoyo mods fuel nut and hot start nut, Hot rod Stroker crank, Wiseco valves and timing chain. Lighten flywheel
Plastic:
08' Stock Honda
Graphics|Seat Cover:
SSI
Hood:
FourWerx Carbon
Number Backgrounds:
SSI
Skid Plate:
-
Handguards:
Sunline
Bar Pad:
Fasst Co.
Fuel Tank:
Stock
About Quad of the Month:
The ATVRiders.com Quad of the Month is hand picked by the ATVRiders community once a month. To enter, sign up for the ATVRiders.com forums and go to the Quad of the Month section for more information. Check out the Previous QOTM winners ATV's.