2018 Suzuki Quad Sport Z50 & Z90 Youth ATV
2018 Suzuki Youth Quad Sport ATV Models
Brea, CA (7/7/2017) - Suzuki's Youth ATVs for 2018 are designed to match the rider with performance and size that won't overwhelm them as they learn. Both the 2018 QuadSport Z50 and QuadSport Z90 are equipped with features that let adult supervisors control when the ATVs can be ridden and how much performance can be dialed in as the rider is developing skills.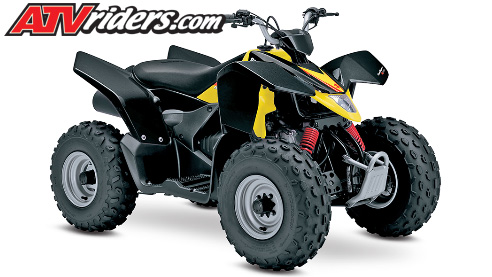 2018 Suzuki QuadSport Z90
The 2018 QuadSport Z50 is designed for adult-supervised riders age 6 and older and includes many features that make learning to ride a safe and fun experience. There is an emphasis on safety and adult control built into this Quad. The QuadSport Z50 features a throttle limiter to control engine output, a tether switch to remotely shut off the ignition, and a keyed main switch that prevents unauthorized use. Adjustable hand controls, an automatic transmission, full floorboards, and a low seat height make sure that beginning riders will enjoy active convenience and control. Helping families experience the fun of the outdoors and the joy of riding a Suzuki is what the QuadSport Z90 is all about. MSRP $2,049, available in Championship Yellow, in dealers in July 2017.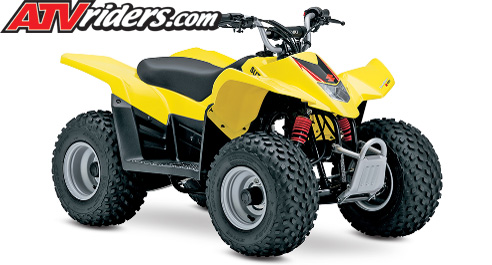 2018 Suzuki QuadSport Z50
The 2018 Suzuki QuadSport Z90 is for adult-supervised riders age 12 and older. New riders will appreciate convenient features like an automatic transmission and electric starter. An easy-to-set throttle limiter lets adults set the power level appropriately for young riders, and a keyed ignition switch makes sure there are no unauthorized rides. Like the QuadSport Z50, the Z90 is packed with quality, safety and style making it the perfect choice for young ATV riders to learn on. MSRP $2,949, available in Black/Yellow, available in dealers in July 2017.