Las Vegas, NV (1/13/2017)
-
PEP Suspension/Gold Speed/SSI Decals' Collins Webster finished fourth in the WORCS Off Road Racing season opener at Mesquite MX in Nevada on his new Yamaha for 2017.
Webster didn't have his new Yamaha race quad dialed in for the opening round, so he opted to race the Yamaha he has been using to practice over the winter. While it may not have been his race quad, it still had plenty of power as the grabbed the holeshot and went to finish fourth after a conservative race on what many would describe as the roughest track on the schedule.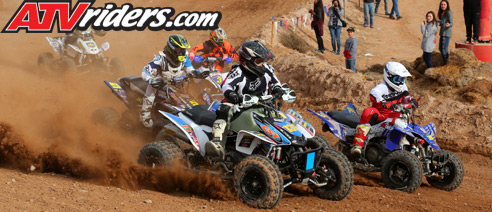 PEP / Goldspeed's Collins Webster grabbed the WORCS Pro ATV Holeshot on his new Yamaha YFZ450R
"If you're not going to win the race, you might as well win the holeshot, so that's what I did," said Webster with a laugh. "We got the race bike built, but I didn't feel comfortable on it, so we busted out the trusty practice bike. Jamie Ortiz and Wayne with PEP built the bikes from head to toe. I owe it all to them. Those guys stepped up big time for me."
Webster elected to change up his program for 2017, moving from Can-Am to Yamaha. The move was definitely a positive one for Webster.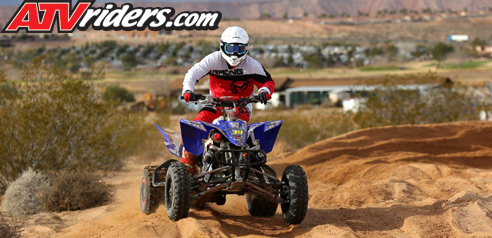 Immortal ATV's Collins Webster finished 4th at the WORCS Season Opener & he will be going to the Podium at Round 2
"Coming off the Can-Am, I wanted something that had the snap of fuel injection," said Webster. "Moving to Yamaha was the right direction. The bike is awesome."
Webster also returned to Gold Speed tire and wheels for 2017. He is glad to have the enhanced traction Gold Speed Tires had provided him in the past.
"We got a lot of traction this weekend because we're back on Gold Speed tires and wheels," said Webster. "It's a good combination. I missed those tires, so it's nice to be back."
Webster will be back in action as WORCS next heads to Primm, NV January 27-29.
2017 Collins Webster Sponsors:
PEP Suspension, Goldspeed Tires & Wheels, SSI Decals, C&R farms, ATVriders.com, Quad Tech, Fasst Co, Immortal ATV, Moose Racing, Tire Blocks, Jen Broughton