Kawasaki Brute Force 750 ATV & Dual Shot Outdoors Turkey Hunting
West Virginia Spring Turkey Season Hunt
ATV / UTV Hunters Buyers Guide to ATV & UTV Links

Lerona, WV (4/29/2012) - The West Virginia spring turkey season was already a few days old when I was offered the incredible opportunity to join Charger Wiley at Dual Shot Outdoors for what I hoped to be a successful hunt for a nice gobbler. This hunt was all coming together quickly as I had just picked up a camo edition 2012 Kawasaki Brute Force 750 4x4 utility ATV and my orders were clear, GO HUNTING!

With the Brute Force loaded, I made my way to southern West Virginia's Mercer County and the weather forecast was not shining on me like my good fortune was. I was a bit bummed in all honesty, here I had the chance to hunt with someone who knew these birds and the area intimately and the weather was going to beat us into the ground as well as having a nice Kawasaki Brute Force 750 ATV to ride and it was going to be a full on monsoon!
2012 Kawasaki Brute Force 750 4x4 Utility ATV Camo Edition with Gun Scabbard
My good fortune did continue however, weather not withstanding, as I pulled into my bunk house for the next few days and not even the rain could place doom and gloom on my continuing streak of incredible luck as I was to be housed in a cabin built in the 1700's!
Charger Wiley - Dual Shot Outdoors & Worldwide hunting guide took us out for West Virigina's Spring turkey hunt
Meeting my hunting guide, Charger Wiley, was a pleasure as instantly I could tell he was going to do all he could to put us on a good bird even if the weather was going to try and drown us. Charger has a long history behind the lens videoing hunts worldwide for most of the big name hunters you see on television, and now runs his own guide service on his property.
Now the pressure was mounting, here I had a world class guide, a new 2012 Kawasaki Brute Force 750 4x4 all decked out with a gun scabbard, winch and a fitting camo finish, an editor reminding me that a hunting article really works best when you are able to harvest your target and don't forget that we need pictures, and most importantly, don't miss!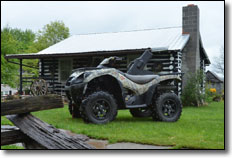 Dual Shot Outdoors put us up in a neat cabin that was built during the 1700's

Charger began some brief history of the cabin and the area, which just so happens to be close to one of the Hatfield McCoy trailheads and soon I found us heading off for a quick scouting of the area we were to hunt. Daylight was fleeting but I could tell he had these birds patterned and if the weather held, we should at least have a chance come morning.

Did I mention the rain? It continued to pound the region as darkness enveloped us. I was paid a visit by Chargers brother to make sure I had everything I needed and for well over an hour I was overwhelmed by his knowledge of the cabin which was built by his great grandfather and originally stood along the New River. The cabin was moved by the historical society and eventually found its way back to the Wiley's who have turned it into a bed and breakfast as well as a cozy and enchanting location for his hunters to stay.