2017 ATV Masters TT
Day One - Kinston, NC
Lenoir County Fairgrounds
April 7, 2017

Brad Riley Takes Day One ATV Masters TT Pro Win
Chuckie Creech & Aaron Medlin Round Out Pro ATV Podium
Kinston, NC (4/8/2017) – The 2017 ATV Masters TT Shootout was held April 7-8 in Kinston, NC. Brad Riley scored the Pro class win and CJ Robson snagged the Pro Am Spec class victory, Friday on the first day of racing.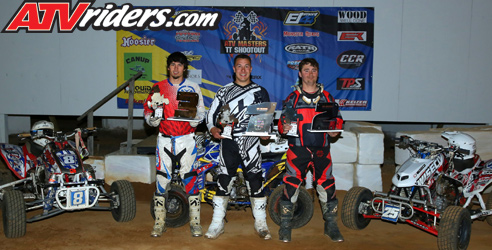 Pro ATV Podium - ATV Masters TT (left to right)
Aaron Medlin (3rd), Brad Riley (1st), Chuckie Creech (2nd)
The event was put on by Earnhardt Racing and showcased the biggest prize giveaway in recent history for a TT event. $20,000 was up for grabs for both Pro and amateur riders over the two-day event, with a $6,000 guaranteed Pro purse each day and over $8,000 in prizes and cash for the amateur and pro-am racers. On top of it all, the event gave away a $1,000 college scholarship to one lucky racer who wrote in before the March 31 deadline.
Racing kicked off around 6:30 p.m. and the pro main event finished up just after 10:00 p.m. thanks to a very well organized event. It was a night of excellent racing and track conditions, with minimal dust despite high winds. The track featured a longer lane that racers were required to take twice throughout the 20 lap main event, referred to as the joker lane, forcing racers to use some strategy and making the race more interesting.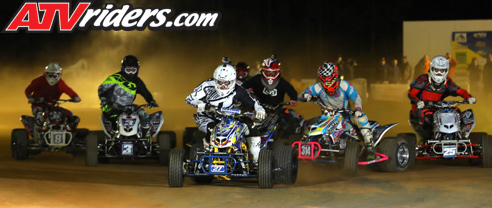 #27 Brad Riley grabbed the Pro ATV Holeshot
In the Pro class it was Brad Riley who ran away with the holeshot and class win, taking home $1,300. "My Maxxis tires and DASA Racing motor pulled me off the line great. I got a decent lead and whenever I saw Chuckie take the joker lane I would take it the next lap," explained Riley.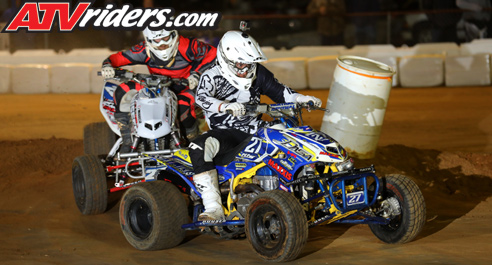 #27 Brad Riley & #25 Chuckie Creech Battling for the lead
Riley rode a strong, smart race all the way to the checkered flag. "It feels great. This is what I come here to do and we got the job done. It was a lot of fun with that joker lane and it was good to bring home that money," said Riley.
Chuckie Creech put in an impressive and exciting ride to come in second place behind Riley. Creech came out around forth place and put his head down as he charged towards the front. At the very last opportunity, Creech tried to rub up next to Riley in hopes of being able to make a pass on the final straight away to the checkers, but hit a pothole in the process and was nearly thrown off the quad. Creech managed to recover and still finish in second place taking the $1,000 prize.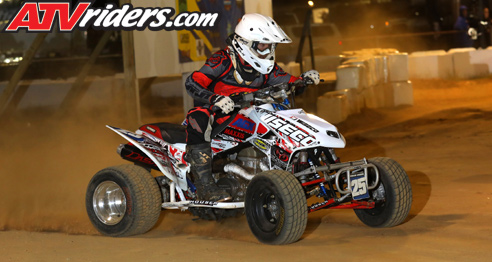 #25 Chuckie Creech taking the Joker Lane
"The track was good. We both were riding hard. We were just so close it was hard to make any type of moves. I finished in second, but I had a good time," stated Creech.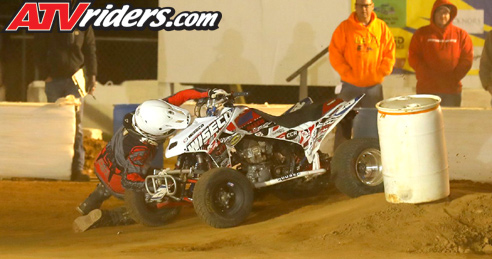 #25 Chuckie Creech takes a tumble after going for a last turn pass on Brad Riley, but he remounts to take 2nd place
Aaron Medlin rounded out the Pro class podium with third place. Medlin started around fifth and battled his way up through the pack. "I had a great battle with Andrew Evanyke. We battled for a long time, he made a little mistake coming up to the finish line so I was able to get up beside him and make the pass," explained Medlin. The pass for third earned Medlin $900.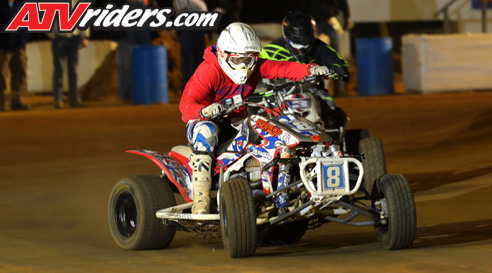 #8 Aaron Medlin Finished 3rd in the Pro Class
Fourth place then went to Andrew Evanyke and Nate Dawydko rounded out the Pro class top five.
When it came to the Pro Am Spec class, CJ Robson out of North Carolina was the star of the show. Robson is running the #422 bike out of New York from Justin Haas. "This is my first time on this bike, so I think we did pretty good to start off the season," said Robson. Off the start Robson was second, but made a pass for the lead coming out of the joker lane to take home the win and $500. Robson also took the win in Pro Am Unlimited.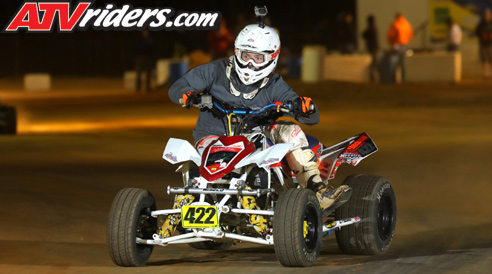 #422 CJ Robson secured the Pro-Am Spec Tire & ProAm Unlimited Wins on Friday
Kirby Cooke clinched second place in Pro Am Spec and the $400 cash prize. Cooke stays busy running a business at home and was thankful for the chance to get away and make his return back to racing.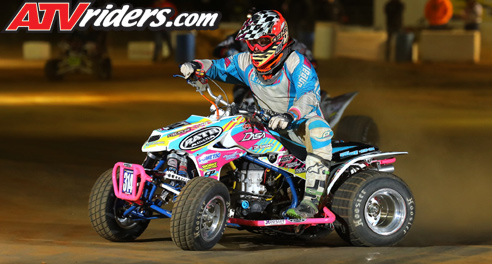 #314 Kirby Cooke
"We came out third and worked our way to second. We led a few laps but the joker lane worked to our disadvantage. CJ got around me when we took the joker lane and he got ahead enough I could not get him back, but we ran good and we will take it," said Cooke.
Nate Dawydko out of Clarence, New York snagged third place and $300 for his Pro Am Spec class performance. "It was tough, it was really tight. I managed to pass two people and work my way up," explained Dawydko.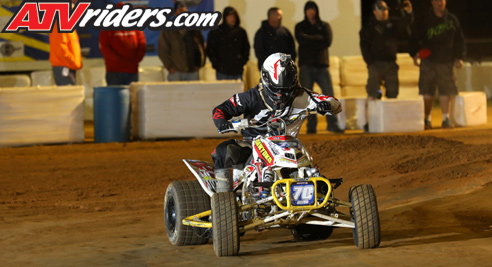 #70 Nate Dawydko
Bryan Robertson put in a strong ride for fourth in Pro Am Spec, and Michael Houghton rounded out the top five with fifth.
The ATV Masters TT Shootout is a once annual event, but everyone will surely make a return appearance next year to battle it out for big cash prizes once more in 2018.