2017 ATV Masters TT
Day Two - Kinston, NC
Lenoir County Fairgrounds
April 8, 2017

Chuckie Creech Claims ATV Masters TT Pro Overall Win
Brad Riley & Michael Houghton Round Out Pro ATV Podium
Kinston, NC (4/11/2017) – Chuckie Creech took the overall victory in the Pro class during the ATV Masters Shootout TT race at Ironclad Race Track. Creech finished second on day one of two-day event and won the second day's race to secure the victory. In the process, he pocketed $2,800 with the $500 Overall Bonus. Brad Riley finished second overall, and Michael Houghton rounded out the Pro ATV Podium on Saturday night.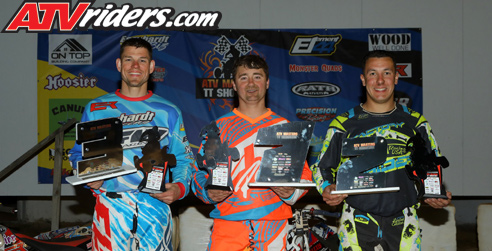 Pro ATV Podium - ATV Masters TT (left to right)
Michael Houghton (3rd), Chuckie Creech (1st), Brad Riley (2nd)
The event is the brainchild of Rick Earnhardt. Envisioning it as the "Daytona 500 of TT Racing," Earnhardt put up the largest prize for a TT event in recent history with a $20,000 purse and $6,000 Pro purse each day, as well as $8,000 in contingencies and cash for amateur and Pro Am. The purse paid back to 10th place.
The ATV Masters TT event gave away some great looking trophies to the racers along with thousands in prizes
"We needed to do something a little different in the TT world and I wanted to make this the biggest TT race of the year that kicks things off," said Earnhardt. "I didn't realize how much work it was, but it was worth it. Next year, once the word gets out, we'll have a lot more riders come from across the country. We're even hearing from some pro motocross racers. We had 10 in our 50cc youth class, which is amazing. Sponsors are already wanting to talk to us about next year."
Darla Justus took home a brand new Honda Generator
The race was held in typical TT style with a technical dirt track featuring plenty of blue groove, as well as a Joker Lane. The Joker Lane, which had to be taken twice during the main, was a longer lane around the start-finish line that helped break up the pack and make for more competitive racing.
Creech won the 25-lap main during the second day of racing. Riley finished second, ahead of Michael Houghton, Andrew Evanyke and Nate Dawyko. Creech took the Joker Lane early and then challenged Riley in the end. Riley took the Joker Lane late in the race, handing the lead and the win to Creech.

#25 Chuckie Creech grabbed the ATV Masters TT Pro Holeshot
"Anyone out here could have won because there are a lot of fast guys out here," said Creech. "I had to pick and choose when to take the Joker Lane. The guy behind me cut off, and then I took the Joker Lane and got back up to Brad Riley. When he took it, I was right there on it."
Creech unveiled a new quad for the event. While he knew he had a good bike, he was still nervous going into the event. "We knew what we had, but this is a new bike and you have to get your trust back into it," said Creech. "We were pretty well set up."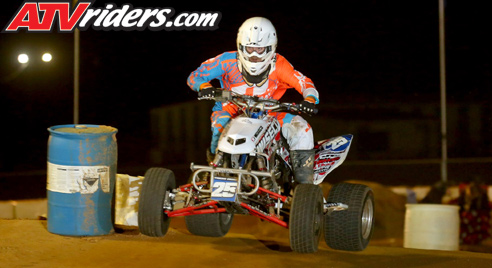 #25 Chuckie Creech held on to take the win on Saturday, which also earned him a bonus $500 for the Pro Overall Win Award