ATV MX Championship
Spring Creek MX
Millville, MN
July 1-2, 2017
Spring Creek Amateur ATV Motocross Report
Millville, MN (7/12/2017) - The 2017 AMA ATV Motocross National Championship moved to Spring Creek MX in Millville, MN for the eighth round of the season. Amateur racers from around the country gathered to fight for championship points as the season dwindled down to the final four remaining rounds of racing.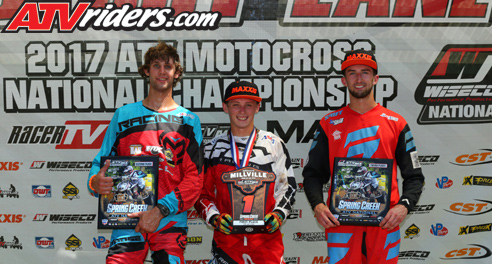 Pro-Am ATV Motocross Podium (left to right)
Parker Wewerka (2nd), Sam Rowe (1st), Zach Kaczmarzyk (3rd)

Sam Rowe took his season first Pro Am podium in style by nabbing the overall win with strong and consistent 2-2 moto finishes. Rowe shot out of the gate each moto, grabbing both holeshots on his way to victory.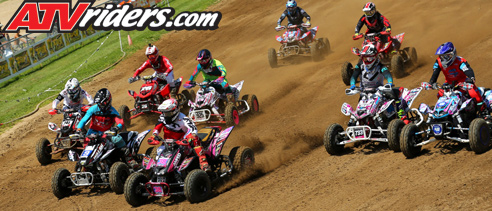 #38 Sam Rowe grabbed both Pro-Am Moto Holeshots & claimed his first overall win of the season
"It felt good to finally get that, I have been chasing it all year so far. I just felt solid all weekend. My bike worked really well on that demanding track. I was able to just ride my own race and put two solid motos together for the first time all year," explained Rowe.
Rowe dedicated his overall win to a fallen youth rider, Kyler Lenz, who suffered a tragic crash over the weekend. Kyler's father, Kevin Lenz, celebrated with Rowe on the podium in his son's honor. "With every thing that happened, he needs all the love and support he can get from the ATV community right now. It was a really tragic thing that happened. I was just getting to know Kyler and his family. It's really sad what happened," said Rowe.
The Pro Am class leader for the national championship points, Parker Wewerka, stayed consistent with a second place overall finish. Wewerka won the first moto by an incredible 17-second gap to second place. In moto two, Wewerka was again dominating and led all the way up until the second to last lap, when he had some issues that pushed him back to a fifth place moto finish for second overall. Wewerka still leads the points race by 28.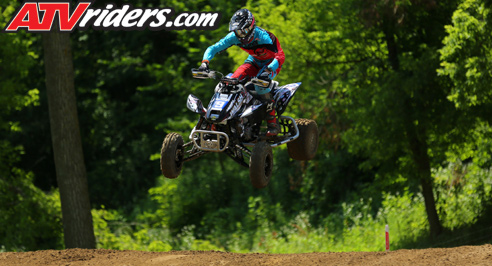 #9 Parker Wewerka
Zach Kaczmarzyk rode his Honda to his first Pro Am podium with third place overall. "I managed to get up on the box in Pro Am for the first time ever. I am extremely happy with this and cannot thank everyone enough for helping me get to this point in my racing career," stated Kaczmarzyk. With the added confidence of his first podium behind him, Kaczmarzyk will be one to watch for in the final three rounds this season.
#41 Zach Kaczmarzyk
Alan Myers dominated the Pro Sport class with impressive 1-1 moto finishes for the overall win. This was Myers first Pro Sport win of the season, coming off his first Pro Am win at the previous round. Myers is catching fire on the last half of the season and is currently fourth in the championship points.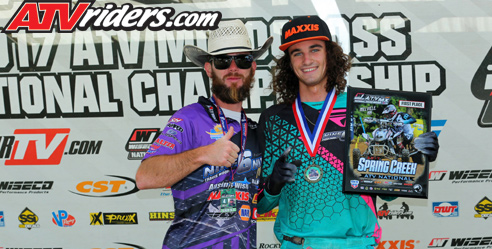 Alan Myers (right) secured the Pro Sport Win at Spring Creek MX
David Solecki battled up front and rode his Honda to second overall in Pro Sport with 3-3 moto finishes. Solecki is second in the championship points and remains a contender for the national championship title.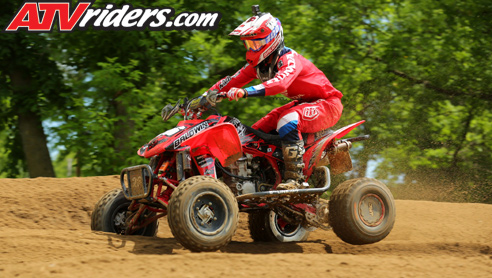 #26 David Solecki
Rounding out the Pro Sport podium with third overall was the class points leader, Noah Mickelson. In the first turn of the first moto, Mickelson was involved in a holeshot crash. "That first corner was pretty hectic. There was a big pile up so I was a little bit behind, but I managed to make my way back through the pack and got up to eighth," explained Mickelson. Moto two was a different story for Mickelson, who came out swinging with a second place finish to salvage third overall.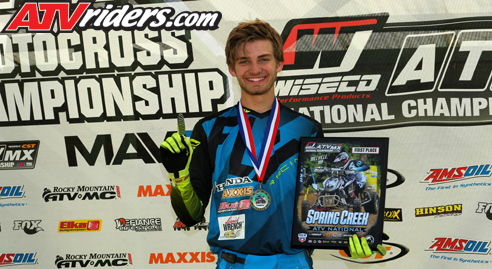 #100 Noah Mickelson finished 3rd in Pro Sport, but he claimed the win in 450 A
::CONTINUED::