ATV MX Championship
Red Bud MX
Buchanan, Michigan
July 29, 2017
Joel Hetrick Goes 1-1 at Red Bud MX
Chad Wienen & Thomas Brown Round Out the Pro ATV MX Podium
Buchanan, MI (7/29/2017) - Maxxis / Elka's Joel Hetrick won the AMA Wiseco ATV Motocross National Championship presented by CST Pro ATV race at Redbud MX. His third consecutive moto sweep allows him to extend his points lead to 11 on Chad Wienen going into the season finale. Wienen finished second, ahead of Thomas Brown, Nick Gennusa and Josh Upperman,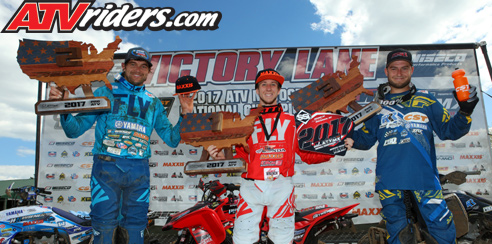 Pro ATV Motocross Podium (left to right)
Chad Wienen (2nd), Joel Hetrick (1st), Thomas Brown (3rd)

Wienen took full advantage of a newly groomed track and set the fastest qualifying time during the second qualifier, but Hetrick had the starts dialed in during the motos. He took the holeshot in both motos, maintained a lead, and wasn't seriously challenged.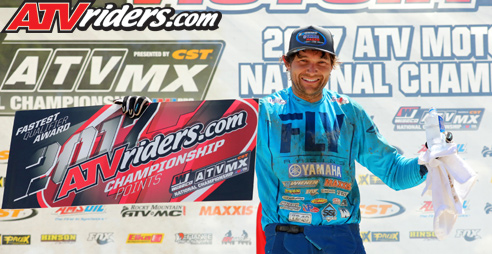 Yamaha's Chad Wienen claimed his 4th ATVriders.com Fastest Qualifier Award, which moves him to within one of Joel Hetrick heading into the Loretta Lynn's season finale
It's those holeshots that made the difference for Hetrick. Hetrick has swept the last three races, winning both motos at each, and has a total of five overall victories this season. With passing opportunities at a premium, he knew he had to get up front quickly.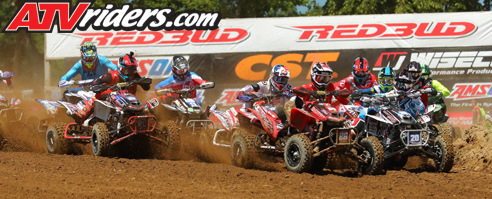 DASA Racing's Joel Hetrick grabbed both SSi Decals Holeshot Awards at Red Bud MX
"I rode two solid motos, got two holeshots and put it all together," said Hetrick. "The starts have been awesome. My DASA motor and Maxxis Tires are a great combination and I've been practicing my starts a lot. It's been a great year and I've really turned it around at the end of the season."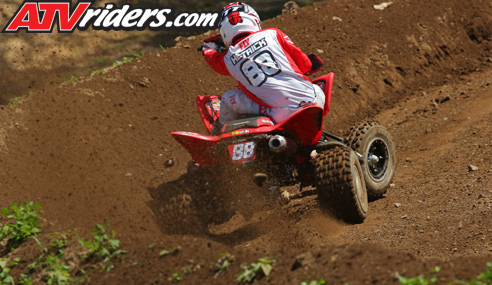 Maxxis' Joel Hetrick held the lead from start to finish in both motos
With just one race left, Hetrick now has to defend his red plate, setting up what is certain to be an all-out brawl at the season finale at the Loretta Lynn Ranch. With an 11-point gap, he knows Wienen will do anything he can to defend his title.
"I'm in a good position, one I've never been in before," said Hetrick. "We're going to look forward to our next two motos. I want to go there and try to win a moto and get on the box."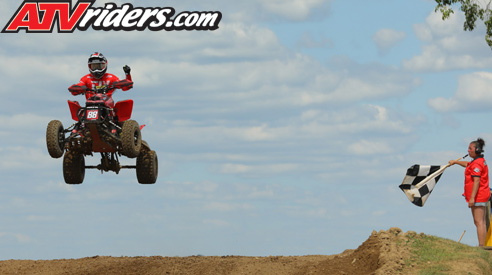 #88 Joel Hetrick claimed his 6th straight moto win, which extends his points lead to 11 points on Chad Wienen heading into the season finale
::CONTINUED::