BEST IN THE DESERT
Vegas to Reno
August 18-19, 2017

BITD Vegas to Reno UTV Race Report
Phil Blurton Claims 2nd Straight Best in the Desert Pro Turbo UTV Win
BEST IN THE DESERT
Vegas to Reno

Las Vegas, NV (8/27/2017) - Best in the Desert Series rookie Pro Turbo UTV driver Phil Blurton showed his victory in the UTV World Championship was no fluke as he won the prestigious Vegas to Reno race. Blurton, teamed with co-driver Beau Judge, overcame a tip over early in the race to win the 500-plus-mile endurance classic in his Can-Am Maverick X3 Turbo. The victory unofficially puts him first in points with three races left in the 2017 BITD calendar.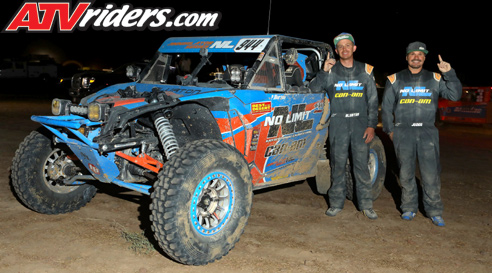 No Limit's Phil Blurton & Beau Judge secured their second straight Best in the Desert Win at the Vegas to Reno
With dry conditions leading up the event, the race, billed as America's longest off-road race, turned into a dust storm early. Temperatures peaked at 100 degrees after the UTV racers took to the track at 11 a.m. and drove nearly 12 hours through the desert between Beatty, NV and Dayton, NV. Heavy silt beds challenged the racers, as did several rocky sections, including the last five miles, which looked more like a rock crawl than a desert race.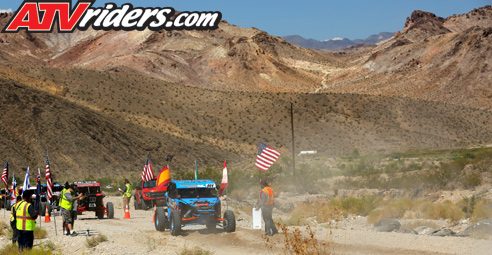 #944 Phil Blurton was the first SXS to leave the starting line around 11am just outside the town of Beatty, Nevada
Blurton started first, but clipped a tree and rolled over 70 miles into the race. Luckily, a Trophy Truck team came to his aid, got his machine back on its wheels and he was quickly back in the race.
Running a steady pace, he took the victory by just over a minute ahead of Sven Ellstrom, Mark and Ryan Holz in their Holz Racing Polaris RZR. Logan Gastel was third in his Can-Am Maverick X3. Monster Energy's Matt Burroughs and Cain Smead teamed up in a Can-Am X3 to finish fourth. Mitch Guthrie, Jr. finished fifth in his Polaris RZR, moving him back into points contention.
When he flipped, Blurton thought his race had come to an abrupt end. He handed the lead to Wayne Matlock, who subsequently fell back in the race with mechanical issues. Brandon Schueler then took the lead and was looking for his first victory this year, but also suffered a mechanical issue, which took him out of the lead. Meanwhile, Blurton ran his pace. Despite losing 10 minutes due to the crash, he stuck to his plan and it worked out.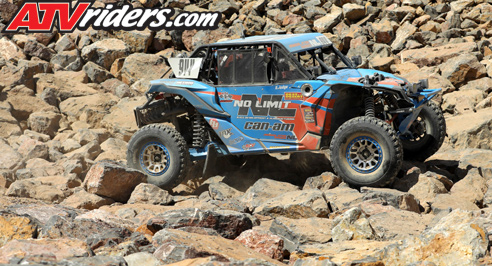 #944 Phil Blurton
"We thought the day was over, but there happened to be a Trophy Truck there," said Blurton. "We lost five positions. The rest of the day, we had no issues. We just put gas in it and drove it. We just stuck to our game plan. We didn't let anyone push us. We knew a pace that would keep the car together and we ran that pace all day. There were a couple of times when people have two or two-and-a-half minutes on us, but we stayed with our pace."
Preparation was the key to Blurton's success. The team, fresh off their victory at the last race, completely stripped the car and rebuilt it for the long race. They also worked on physical conditioning, which is key to success in the grueling event, especially because Blurton drove every mile.
"We did a lot of physical training for this race and a lot of preparation on the car," said Blurton. "We had a fresh car for this race. I was really nervous about the race, and it really wasn't as bad as I thought it would be. The dust was awful, but the race was good."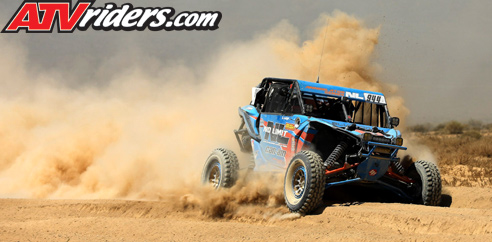 #944 Phil Blurton has taken over the Pro Turbo UTV points lead with his second straight win
Blurton's co-pilot was a big part of the preparation. Along with performing navigation duties, Judge also prepped the car. His hard work paid off. "No one can understand what actually goes into this unless they're actually involved in it," said Judge. "As soon as we finished the UTV World Championship, this car was completely torn down. I personally touched every nut and bolt on that car to make sure nothing would fall off. I didn't want anything going wrong, so this was the most nervous I've ever been during a race. I work on the car, so I don't want anything to come loose."