Mountaineer Run GNCC ATV & UTV Race Report
Walker Fowler Takes 10th Win, Kevin Trantham Wins XC1 UTV
Masontown, WV (9/28/2017) - Race conditions were near perfect with a hot and humid day at the sixth annual Rocky Mountain ATV/MC Mountaineer Run GNCC in Masontown, West Virginia. The lack of race meant dust was a huge factor at the eleventh round of the 2017 AMSOIL Grand National Cross Country (GNCC), presented by Maxxis, an AMA National Championship, but WFR/Yamaha/Maxxis/Fly Racing's Walker Fowler didn't let it faze him where he once again made his way to the middle of the box to take home the coveted overall win.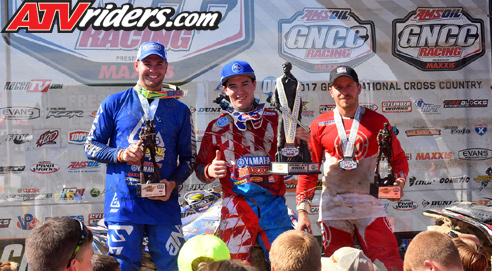 GNCC Racing Pro XC1 ATV Podium (left to right)
Brycen Neal (2nd), Walker Fowler (1st), Jarrod McClure (3rd)
Westley Wolfe rocketed off the start on his ATV Innovations/Solo Pilot-backed Suzuki to earn his first ever $250 Wiseco Holeshot Award. Wolfe was accompanied by Brent Sturdivant and Fowler through the first turn. While the three found success, CST / Induction Solutions / LSR / HiPer / Spider Graphix's Adam McGill struggled through the first turn where he got hung up and fell off his quad.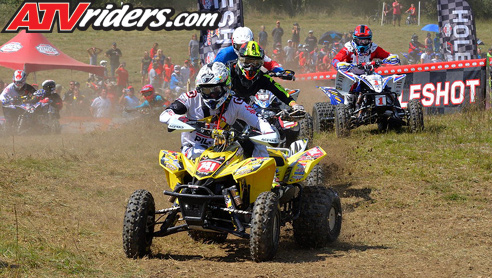 Westley Wolfe got a favorable jump off the line to earn the $250 Wiseco Holeshot Award
Once the riders emerged at the field section at the five-mile marker, Sturdivant had a clear track in the lead with Fowler and Wolfe wheel-to-wheel in second and third.
Fowler secured the lead position by the time the leaders reached the FMF PowerPoint rock garden. Sturdivant maintained second place with Coastal Racing's Brycen Neal settling into third. Fourth through eighth place remained in close proximity through the technical rock garden.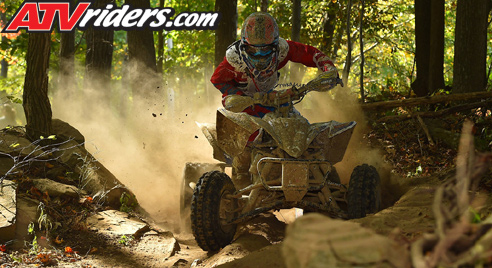 Walker Fowler earned his tenth win of the season at the Mountaineer Run GNCC
Neal got off to an unfavorable start, but made quick work through the pack and sat in second showing promise to catch Fowler as the opening lap came to a close. Sturdivant held onto third, but ended up having to cut his race short and on the second lap. Sturdivant's misfortune allowed for JMR/ATVriders.com-backed Jarrod McClure to move into third.
Throughout the rest of the race, not much changed in terms of the podium positions, but once the white flag came out Neal had made up substantial amount of ground on Fowler as they worked their way through the lapped riders.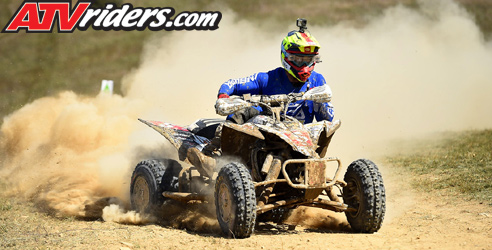 #6 Brycen Neal's impressive ride demonstrated it won't be long until he's standing in the middle of the box.
Neal was on the rear wheel of Fowler through the FMF Powerpoint, but made a small mistake and had to dismount his quad and get it back on track. Neal's mistake didn't cost him too much time and he was able to get going again before McClure could catch up.
With only a few miles from the finish, Fowler was able to cruise to his tenth overall win of the season. Neal followed in second, with McClure rounding out the overall podium.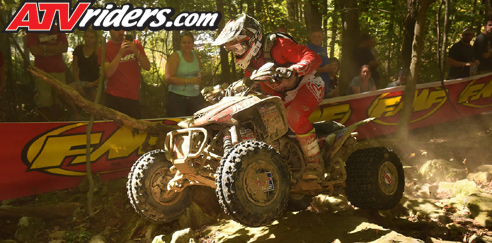 #4 Jarrod McClure secured his second straight podium finish
Along with their impressive finishes, both Neal and McClure moved up to second in third in the championship standings. Six-time GNCC champion, Chris Borich finished just off the podium in fourth after starting the race in seventh.
After grabbing the holeshot, Wolfe placed fifth with BNR Motorsports/Maxxis/Pro Graph-X/Precision's Josh Merritt and Pierce Performance's Cody Collier in sixth and seventh overall.
::CONTINUED::