GBC Heartland Challenge ATV Race Report
Team Yamaha WFR Takes 8th 10 Hour ATV Overall Win
2017 GBC Heartland Challenge Links

Carlisle, IA (8/26/2017) - Team Yamaha WFR Racing left a wake of destruction at the 2016 GBC Heartland Challenge with their seventh win, and in 2017, number eight was locked into the history books as well. The team again was comprised of Walker Fowler, and Johnny Gallagher, but with Cole Richardson out this time around, it was Mike Notman filling in for the duty. The trifecta were unbeatable for the 10 hour event! The Team 22 Films entry of Adam Weckel and Matt Lindle rounded out the podium in second place on a pair of Honda TRX's. The overall podium for classes combined, out of the 73 entries, also went to Team WFR in first, with Team Distortion Racing in second, and Team Matt, Mike N Corbin in third place.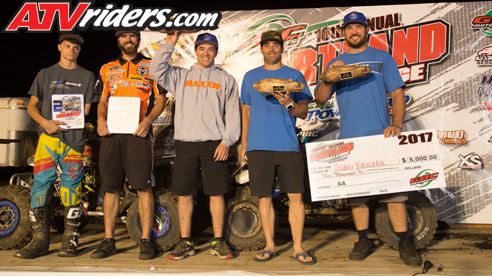 GBC Heartland Challenge 10 Hour ATV AA Class Podium (left to right)
Team 22 Films (2nd), Team Yamaha WFR (1st)

With an incredible amount of dust and dry conditions for the day prior's UTV race, Saturday's ATV race saw a little reprieve as a cooling shower hit over night giving the track a little moisture. With it, however, came the humidity which put some added stress on the racers for the 10 hour event which kicked off almost on the nose of 1:30PM.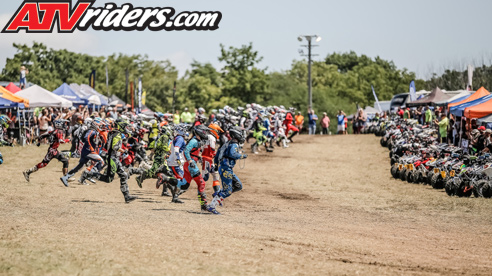 The 2017 GBC Heartland Challenge had 73 Team entries in the 10 Hour ATV competition & they all started at the same time in a LeMans Style Start at 1:30PM on Saturday
The track was, as always, in great shape and thoughtful layout that provided the racers with some truly unique and fun racing experiences throughout the course. As tradition, the GBC "Challenge" section was no slouch this year either as it offered some daring obstacles for those who were brake enough. They included broken chunks of concrete, boulders, old tires, telephone poles and big dirt mounds for the racers to try and tackle, all with the pay-off of saving precious time if they completed the section smoothly.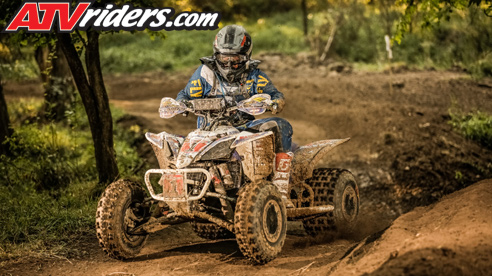 For 2017, Walker Fowler, Johnny Gallagher & Mark Notman teamed up for Yamaha's Team WFR
"Yah know, it went really well, I was kind of an anchor this time around and I elected to let Johnny be his own mechanic, and I guess we should have actually let Mark work on it," joked Fowler. "He was too busy getting ready for this race and Johnny's bike went down and we were going to have to put a lot of time on my bike, which I'm not too concerned about but I wanted to spare an hour on mine so I rode the boss's bike. This was a bike I had about 4-5 years ago and I gave it to Mark to fix up. I had one good lap on it and was feeling calm and comfortable, and apparently she was wasn't happy I was riding it again and I cartwheeled it out into oblivion,"! Fowler said with a laugh.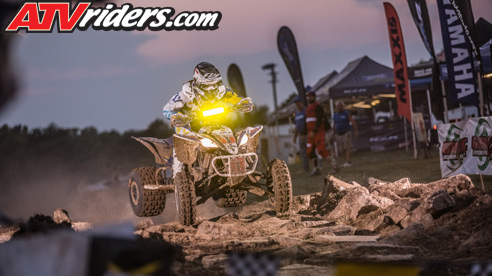 Walker Fowler secured his 8th Win at the GBC Heartland Challenge
"It was a good day! A little different this year for sure and it's pretty cool to race against Matt and Adam this year in the class. With Mike on the team this year, after he gave up racing to help out our program things have been awesome! We've known each since they were really young, and I was kinda-sorta young. I've watched both of these guys grow up and its great to watch them turn into racers and be able to race with them now," said Gallagher.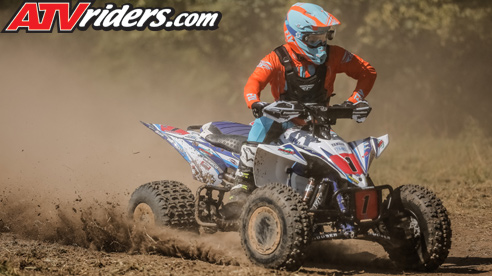 Johnny Gallagher & Walker Fowler are the only two ATV racers in the GNCC Series to claim overall wins this year
"I feels good to get back on top of the bike and ride again for this event. I started riding again a few weeks ago to get prepared and I told those guys it would probably be best if I started out first, and have a nice smooth track for myself," joked Notman. "I took three different shifts at one hour each and it turned out great for us."
Mark Notman came out of retirement to compete at the Heartland Challenge
Team 22 Films brought home the second place on the podium in the AA class and the team was only comprised of two racers; Matt Lindle leading the charge and Adam Weckle batting clean-up. Lindle raced off the line first for the team and immediately got out into the lead early on.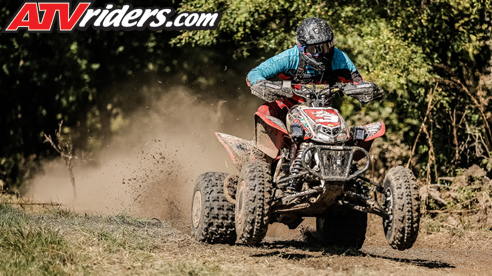 After winning the Ironman Class the past couple of years, Matt Lindle teamed up with Adam Weckle for 2017 & finished 2nd in the AA Class
"I like to go fast," laughed Lindle on the podium. "Yeah, I totally smoked myself and my second leg was totally garbage, haha. I rode way too hard the first two hours and I was just having way too much fun. I wanted to thank our families big time. My family and Adams family helps out big time for all of the races we do, especially this big one. Andy and the entire IATVHSS crew are always top-of-the-line when it comes to putting these events on and GBC always kills it as well," said Lindle.
"I had a really good time out there today racing with everyone and I can't thank everyone enough who supports us. 22 Films, Glann Innovations, GBC Tires, Rath Racing and everyone else," said Weckle.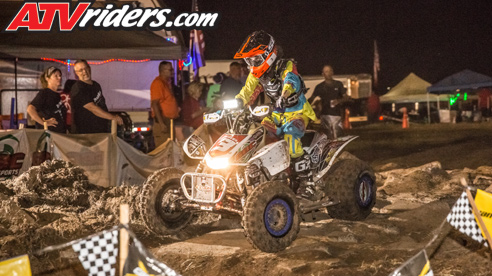 Team 22 Films' Adam Weckle