Rocky Mountain UTV Racing - Round One Report
::Continued::
"I have a Turbo 1000 and there is no turbo class, so we ran in Unlimited," said Gallegos. "I got bumped around a little at the start. I held a solid second and tried to stay out of the mud. It worked and I won the race. I ran the Sportsman 1000 class last year and won the championship, so I had to move up this year. The new turbo has more power than I know what to do with."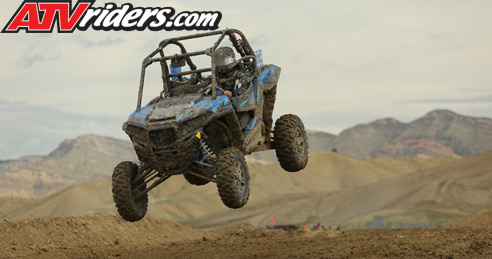 Evan Gallegos kicked off the 2016 RMURA season with the win in the Unlimited UTV class
In the Sportsman Class race, Gina Colosimo came out atop a thrilling battle with Chelsea Konces to win. Interestingly, Colosimo was driving her husband's car here and they had to make several adjustments, so she could drive it.
Rocky Mountain UTV Racing Series - Sportsman Podium (left to right)
Chelsea Konces (2nd), Gina Colosimo (1st)
"I'm super happy for the win," said Colosimo. "My husband's support is really important. We had to put a block on the gas pedal, so I could reach. It was different, but we finished first. I took Chelsea off the line. We battled back and forth, but she broke a belt and I won the race."
Gina Colosimo was flying high in her husband's Mike Polaris RZR as she went on to take the Sportsman UTV class win
In Youth SXS, Zavier Galaviz won, ahead of Tanner Kammerdiener and Camry Brown. Galaviz started second and overtook Kammerdiener midway through the race and never looked back.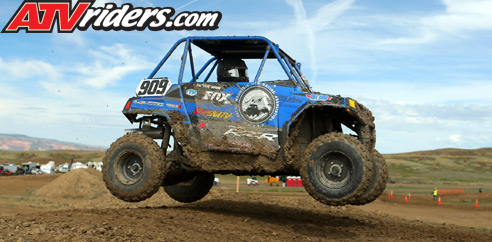 Super ATV's Zavier Galaviz took home the win in the RMURA season opener
"For a minute I was behind Tanner, but I managed to get past him on the inside," said Galaviz. "I wasn't nervous. I was just having fun. It's fun to win, but at the same time, I just love racing. My dad always keeps me going. My whole family supports me."
The RMURA Series heads to the East side of the Rockies for the round two at IMI Motorsports Complex on July 9-10th, so if you missed out on the opening round, be sure not to miss round two.