Rocky Mountain UTV Racing - Round Two Report
Dillon Pointon Takes Second Straight Overall UTV Win
Rocky Mountain UTV Racing Association

Dacono, CO (7/12/2016) - Dillon Pointon won his second consecutive Rocky Mountain Racing UTV Racing Association Pro UTV race at IMI Motosports Park. Pointon, who made his RMURA debut in the season opener, finished 1-2 in the two-moto race to beat out Chris Deshon for the victory. Dwight Hughes returned to RMURA competition and finished third, ahead of Drew Schultz and Ray Mandel.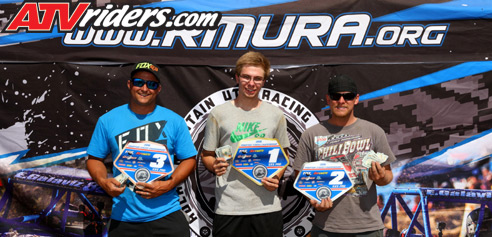 Rocky Mountain UTV Racing Series - Pro UTV Podium (left to right)
Dwight Hughes (3rd), Dillon Pointon (1st), Chris Deshon (2nd)
With temperatures ranging in the high 90s to the low 100s, the race was a battle for both the competitors and their machines. Organizers decided to run two, 30-minute motos instead of the usual one-hour race to give to keep down the dust in the summer heat. In fact, the second Youth SXS moto was shortened to 20 minutes due to the high temperatures this weekend.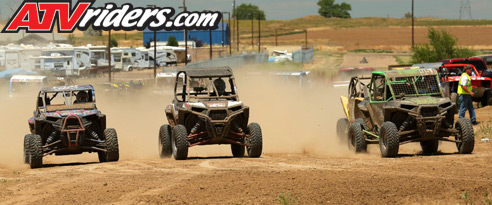 Chris Deshon lead the charge for the start of the second moto
Pointon's race, however, nearly ended before he even hit the track as he discovered a broken axle as soon as he arrived at the facility. With a quick trip back to his shop, his Yamaha was back up and running just in time for qualifying. In the first moto, Pointon drove through the field to win and he finished second in the second moto.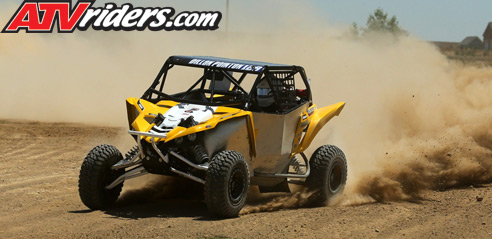 Dillon Pointon during timed qualifying on Saturday
"We just barely got in, but the car was just on rails today," said Pointon. "In the first moto, a lot of people had mechanical issues, so we just held the car together and finished first. I ran out of tear offs early in the second moto, but we held on. The Yamaha is perfect. The track was a little dusty, but it came together nicely as the race went on."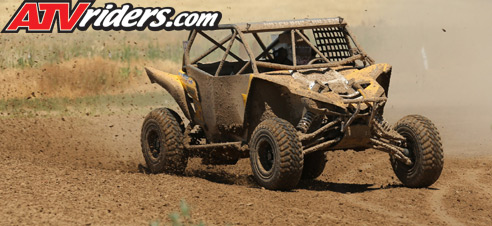 Dillon Pointon was eating plenty of dirt on Sunday as he battled his way to the front in moto one for the win & he finished in 2nd in moto two for 1st overall on the day
Deshon overcame overheating problems in the first moto to finish third, then held off Pointon to win the second moto. "We had a guard in front of the radiator and that blocked some airflow so we overheated in the first moto," said Deshon. "The track was a little slick at first, but as the race went on it got a little tackier. We raced well for the first lap in the second moto and it was smooth sailing from there. I could hear Dillon back there; those things rev so high and the sound is distinctive. I just had to hit all of my lines on the last lap. There was plenty of blue groove out there. It's fun if you know how to use it to your advantage."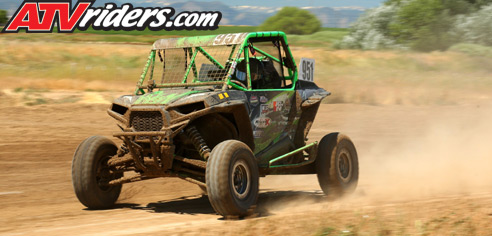 Chris Deshon claimed the moto 2 win, but an overheating issue in moto one costed him the overall with a 3-1 finish for 2nd Overall
::CONTINUED::