Rocky Mountain UTV Racing - Round Four Report
Dillon Pointon Goes Undefeated in 2016 RMURA Series
Rocky Mountain UTV Racing Association

Grand Junction, CO (9/26/2016) - Dillon Pointon completed his sweep of the Rocky Mountain UTV Racing Association Pro UTV season, winning his fourth race at the 2016 RMURA season finale. The victory allowed him to clinch the UTV title in his rookie season. Jeremy Brown was second, followed by Mike Schaad. Mitch Ray and Chris Deshon rounded out the top five.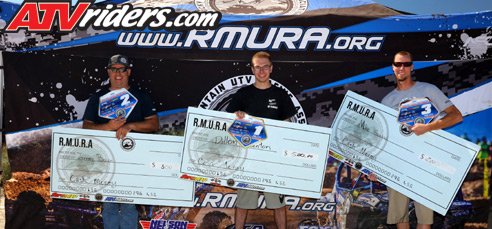 Rocky Mountain UTV Racing Series - Pro UTV Podium (left to right)
Jeremy Brown (2nd), Dillon Pointon (1st), Mike Schaad (3rd)
Rain during the week leading up the race, and beautiful 70-degree temperatures provided perfect racing weather. Promoters had trouble with their water truck, so the rain was a welcome addition, making for a perfect track. Organizers went back to a single-moto, one-hour race format due to the milder weather.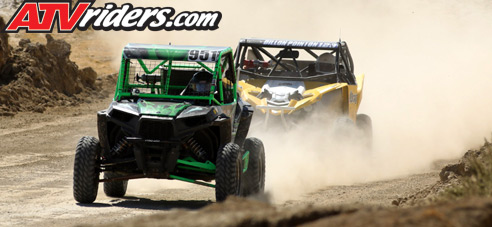 #951 Chris Deshon grabbed the Holeshot with with Dillon Pointon in chase for the first half of the race
Chris Deshon grabbed the holeshot, but Pointon was quickly on his bumper and the two ran nose to tail for the first half of the race. Deshon took a turn a little too hot just after the crossed flags and Pointon struck, taking the lead for good in his Yamaha. The former shifter kart racer was jubilant in winning the RMURA championship in his first season racing UTVs.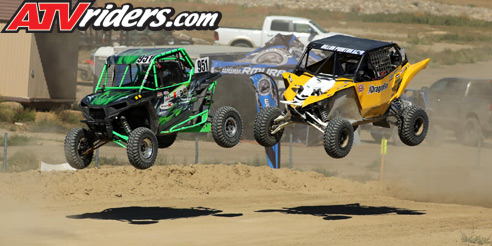 Chris Deshon & Dillon Pointon were running bumper to bumper for several laps before Deshon rolled over in a corner, which allowed Pointon to run away with the win
"My throttle return spring broke, so I was wide open," said Pointon. "I just kept a close gap to him because I didn't have a lot of control. I saw him go into that corner and he bicycled, so I made the pass. Going undefeated in the Yamaha is a great feeling. This RMURA series is a blast to race in. Chris has pushed us all season long. We had to get better every race. This Grand Junction track is my favorite. It has some nice big jumps and some good sweeping corners."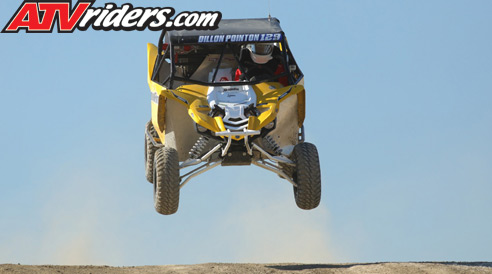 Dillon Pointon scord his 4th Straight Win at the RMURA Season Finale as he went undefeated in his rookie season
Jeremy Brown said the work he's done all season is finally starting to come together. He has been getting faster and faster each race and will certainly be a force next year.
Jeremy Brown scored a 2nd Place finish at the RMURA season finale
"We've been working really hard and I'm getting more comfortable," said Brown. "I'm happy because I'm finishing races, and my times are going down. The start was great, but I didn't want to get into Chris and Dillon in the first turn. Going down to four races this year was good from a logistics standpoint. It was a fun season. We enjoyed it a lot more. We had a lot of new people. It's building. The excitement is there."
::CONTINUED::