TORC Pro Mod UTV - Round 2 Race Report
::Continued::
Kyle Chaney, also a GNCC veteran, was making his TORC debut this weekend in a Can-Am. He made several huge setup changes prior to round one and came out, finishing second in both races.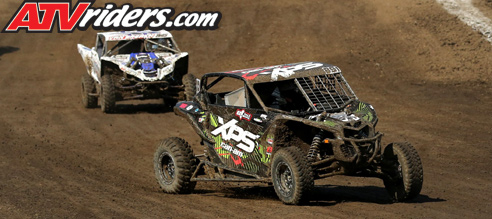 XPS' Kyle Chaney battled with Round One Winner, Rodney VanEperen, before the caution with VanEperen making the pass, but he suffered a mechanical issue after the caution, which moved Chaney back into the 2nd spot behind Tim Farr
"I didn't expect to come into this weekend and win," said Chaney. "I was hoping for top fives, so two podiums ups my standards. I just got my Fox shocks back a couple days ago so I only got to test before my motor was tuned, so that changed the setup. I was a second and half off the pace in practice. I called my buddy Larry Pegram. He used to race this kind of stuff and he told me how to change my setup. I looked at Tim's setup. I changed everything and dropped a second and a half."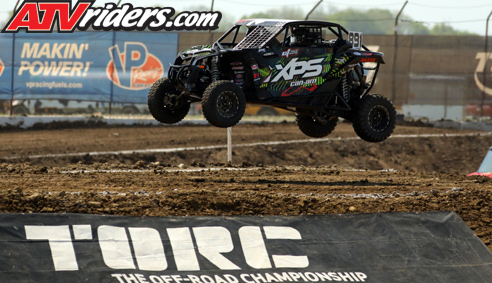 Kyle Chaney went 2-2 on the weekend, which now has him just one point behind Tim Farr in the TORC Pro Mod UTV Points championship
Crash Addict / Bikeman teammates Drew Schultz and David Plavi battled for the last two laps before Schultz made the pass for third. Schultz followed Plavi with two laps to go, looking for a line to pass and found it in the final corner. The podium was Schultz's first in professional off-road competition.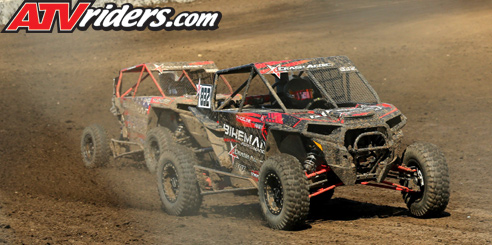 Crash Addict / Bikeman's Drew Schultz makes the last turn pass on his teammate, David Plavi, to take the final spot on the UTV Pro Mod Podium on Sunday
"I saw Plavi leave a door open for me, so I dipped low on the inside and the next thing you know I was in third place," said Schultz, who started eighth. "I held it steady for the first part of the race and as the track dried off I made my moves."
FOX's Drew Schultz scored his career first Pro UTV Podium finish a Round 2 of the TORC Off-Road Championship Series
Plavi had a mechanical issue with his car prior to the event and wasn't able to compete until Howie asked him to drive for him. Howie was involved in a big crash on the first day of competition, but Crash Addict cage and components held up, so they were able to repair the car to compete on Sunday, while many thought it would have been totaled from the impact with the tire and k-rail. Plavi struggled with brake problems throughout the race before finishing fourth. TORC allows drivers to substitute in cars to help maintain points positions.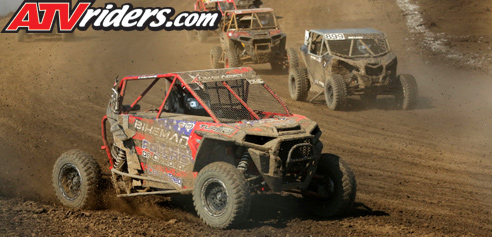 Crash Addict / Bikeman's David Plavi stepped in the #888 Polaris for Darin Howie hat suffered a serious crash on Saturday, but he is now tied for 5th in points with Plavi's 4th place finish on Sunday
"Darin Howie wrecked on the front straight yesterday and got pretty banged up so he let me use his car," explained Plavi. "We had a really good run, but I lost my brakes on the second lap. I was just trying to drive cautiously and fast. I hit on the tabletop pretty hard and was pumping the brake pedal, but I blew the corner and he got past me."
Zakowski worked hard for his second top five of the weekend. After finishing fourth in round one, he lost an engine after qualifying for round two. He started last after changing the engine and drove through the field to finish fifth.
Country Side's Zac Zakowski proved his 4th place on Saturday was no fluke as he charged his way from 20th place to secure a 5th on Sunday, which now has him third points championship
"We had a good run in qualifying and then we blew the motor on the last lap, so we had to run the final with a bone-stock engine," said Zakowski. "We were a long ways back. I gave it everything I had, and we were passing turbos left and right. The car is perfect in the corners. I was impressed that we did it."