TORC Pro Stock UTV - Round 2 Race Report
::Continued::
In the Pro Stock race, Greaves took the lead from the inside pole in his Yamaha and survived two restarts to dominate the race. Kenny Masch made a slick inside move in his Yamaha on the final lap going into the infield and took second from Bill Dixon. Dillon Pointon then made a bold outside move on Dixon going into the next turn and finished third, ahead of Zach Martin and Dixon.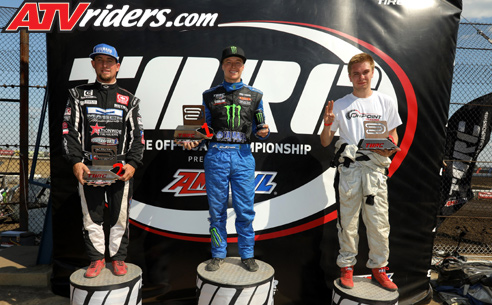 TORC Pro Mod SxS / UTV Podium (left to right)
Ken Masch (2nd), CJ Greaves (1st), Dillon Pointon (3rd)
Greaves led from the pole and wasn't seriously challenged, winning his second race of the weekend. The YXZ 1000 was again the car to beat as Yamaha drivers swept the podium for the second consecutive time.
Monster Energy / Yamaha's CJ Greaves earned the pole position on Sunday unlike Saturday when he had to start in the back of the pack
"This YXZ is just unreal," said Greaves. "We spent the entire offseason testing, making these Yamahas as good as we can. We just keep working at it and every time we go out we find a little bit more. I can't thank the guys at Yamaha and Monster Energy enough. These things are going to keep getting better every time we get on the track."
Greaves said it was a lot more fun winning from the pole than having to drive from last on the grid like he did in round one. He admitted it was just as hard, though.
CJ Greaves held the lead from start to finish to claim both wins in the TORC Chicagoland Slam Doubleheader
"I still had to work just as hard to stay up front, but it was definitely a little easier not to have to start 20th and go through all of the roost and the water," said Greaves. "It was a lot more fun. At the end of the day, it comes down to how many laps you can do consistently and not make any mistakes."
Masch earned his second runner-up finish of the weekend. Though he challenged Greaves early in the event, he was still happy with the two runner-up efforts.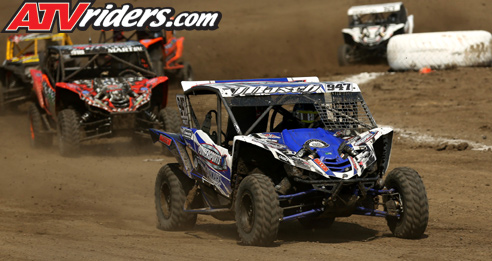 Ken Masch challenged CJ Greaves early on in the race, but Masch held on to claim the 2nd spot once again on Sunday
"It was slick at the beginning, I was watching CJ and I wasn't hitting my lines," said Masch. "Two second places is like two firsts for us. We're a small team, so hopefully we can grow from this."
Pointon made his TORC debut this weekend, and was pleased with his third-place finish. Pointon won the RMURA Pro 1000 title last year and made the trip from Colorado to race here.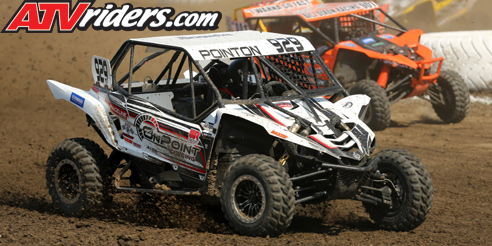 OnPoint Racing's Dillon Pointon made an impressive TORC debut by scoring the final spot on the podium in the Pro Stock UTV class, which boosted him to 4th place in the points championship
"This is our first weekend at TORC and this Yamaha is dialed in," said Pointon. "The guys out here are the next level. They are so competitive and it's amazing to be up on the podium with these guys. Everyone just puts in a lot of effort for this series."
Bikeman Performance's Zach Martin finished in the 4th spot, which has him top three in the points chase
In the Pro Modified championship, Farr leads by one point ahead of Chaney. Zakowski is third, 11 points back. In the Pro Stock title chase, Greaves leads by five points, ahead of Masch. Martin is third, six points back.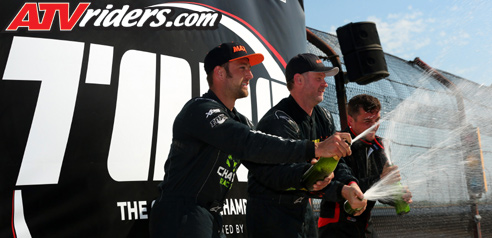 After an exciting TORC Season Opener with Yamaha, Can-Am, and Polaris UTV Racers all taking spots on the podium, the next round of racing nearly a month away on June 10-11th at ERX Motorpark
The TORC Series next heads to ERX Motorpark in Elk River, MN. The Twin Cities Takedown is scheduled for June 10-11th.