CJ Greaves Clinches TORC Pro Stock UTV Championship
Kyle Chaney Takes Wins to Maintain Pro Mod UTV Points Lead
Elk River, MN (9/22/2017) - Kyle Chaney and CJ Greaves won the TORC Off Road Championship presented by AMSOIL UTV races at ERX Motor Park. Chaney further padded his lead with his second victory in Pro Modified this year, while Greaves scored his 11th-straight victory in Pro Stock, unofficially clinching the championship with two races left in the season. The race, held on Friday, was a makeup round 4 event from June when thunderstorms forced officials to postpone it.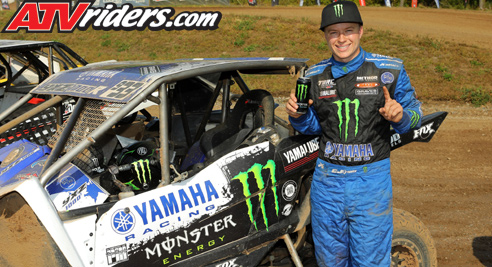 Yamaha's CJ Greaves claims 11th straight win to clinch the TORC Pro Stock UTV Championship two rounds early at ERX Motor Park
The events were held at ERX Motor Park outside the Twin Cities. The purpose-built facility featured a dirt, clay, and sand racing surface for the 12-lap races. The track included several tight turns, a wide sweeper, a unique split-lane section, jumps and technical whoops sections. Temperatures were unseasonable warm with teamps in the mid-90s with a light breeze in the afternoon after morning thunderstorms.

Yamaha's Johnny Greaves was the fastest qualifer and start on the front row along side of Tim Farr with Kyle Chaney starting on the second row
Kyle Chaney was off and running from the start in his Can-Am Maverick X3. Utilizing the inside line in the split section, Chaney made an aggressive move to take the lead on the first lap. He held a commanding lead until lap eight when Johnny Greaves, who was subbing for the injured Rodney Van Eperen, challenged, nearly passing him. Chaney battled side by side with Greaves, but held him off and cruised the final two laps unchallenged. Johnny Greaves finished second, ahead of CJ Greaves, both driving Yamahas. The Can-Ams of Tim Farr and Thomas Reihner rounded out the top five.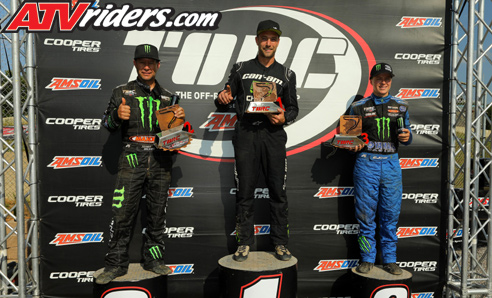 TORC Pro Mod SxS / UTV Podium (left to right)
Johnny Greaves (2nd), Kyle Chaney (1st), CJ Greaves (3rd)
Taking the early lead was key for Chaney. The aggressive driving was just the ticket for him as he extended his points lead to 33 with two races left in the season.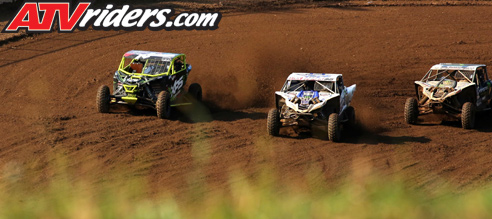 Can-Am's Kyle Chaney made the early pass for the lead, but he nearly lost when he drifted outside, which allowed Johnny Greaves to briefly regain the lead before Chaney jumped past him on the table top
"I jumped to the inside and these Maxxis new tires were really hooking up," said Chaney. "I just carried the speed on the inside. It would have been tough if I hadn't gotten the lead early."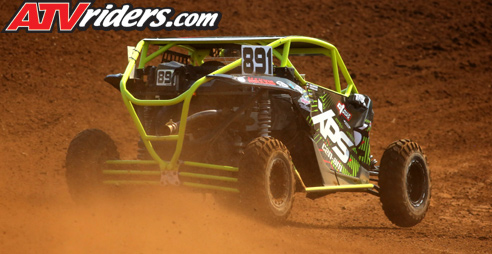 Maxxis' Kyle Chaney was under pressure from Johnny & CJ Greaves nearly the entire race, but he was able to maintain the front spot