Kyle Chaney Takes Two Wins, TORC Pro Championship
ERX Motor Park Triple Heaader TORC Pro UTV Race Report
Elk River, MN (9/27/2017) - The TORC Off Road Championship presented by AMSOIL UTV capped off its 2017 season with Johnny Greaves, Kyle Chaney, CJ Greaves, Zach Martin each scoring victories in the second two races of a tripleheader weekend at ERX Motor Park. Johnny Greaves won Saturday's Pro Modified race, while Chaney clinched the championship with his win on Sunday. CJ Greaves, who clinched the Pro Stock title with his win on Friday, won his 12th consecutive race in class on Saturday, and Martin put his streak to an end with a win on Sunday.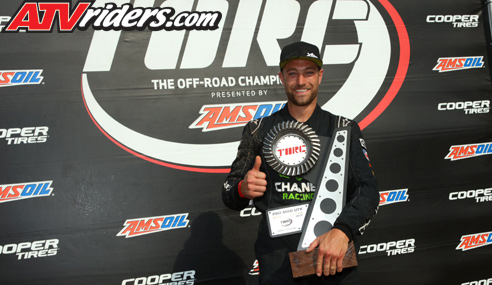 Can-Am's Kyle Chaney clinched the TORC Pro Mod UTV Championship with the season finale win on Sunday at ERX Motor Park
The events were held at the purpose-built off-road facility outside the Twin Cities. The 12-lap races were held on the track's unique short course, which includes dirt, clay and sand through its tough sand whoops, sweeping and tight turns, as well as an interesting split-lane section.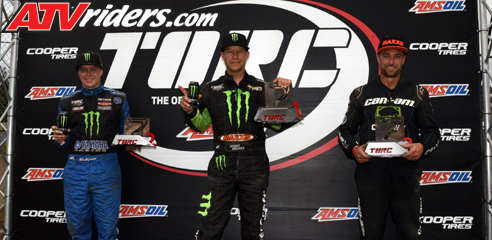 TORC Pro Mod SxS / UTV Podium (left to right)
CJ Greaves (2nd), Johnny Greaves (1st), Kyle Chaney (3rd)
In Saturday's Pro Modified race, Johnny Greaves, who was substituting for an injured Rodney Van Eperen, chose a different car prior to the event. After having issues with the paddle shifters in Van Eperen's Yamaha in Friday's races, he changed to his own car, which has a standard stick shifter. It made all the difference as he dominated the event from start to finish. CJ Greaves finished second in Van Eperen's Yamaha, ahead of the Can-Am of Chaney. Tim Farr and David Plavi, who was driving in relief of Eric Gordon, completed the top five in their Can-Ams.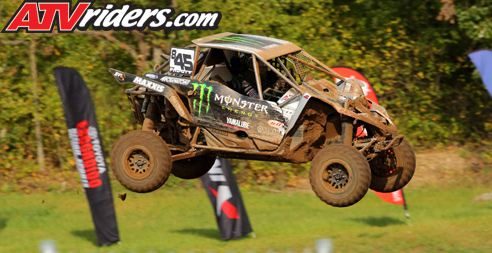 Yamaha's Johnny Greaves made the switch to his own YXZ 1000R on Saturday, which worked in his favor as he charged his way into the lead for the win followed by CJ Greaves & Kyle Chaney to gain some points
"We drove his car yesterday out of respect for Rodney," said Johnny Greaves. "We rolled the dice on the new car today and it made all of the difference. This was short notice and we had to figure out what would work best for us. My car suits my style a little better. CJ can drive anything so that was the best decision."
In Sunday's Pro Modified race, Chaney took the lead Farr on the second lap. With Farr running behind him in second, Chaney pulled away to a huge gap before the competition caution. On lap nine, Johnny Greaves took second, but Chaney continued to dominate and took the victory, his third this season and clinched the title. Johnny Greaves finished second, ahead of CJ Greaves. Farr and Plavi rounded out the top five.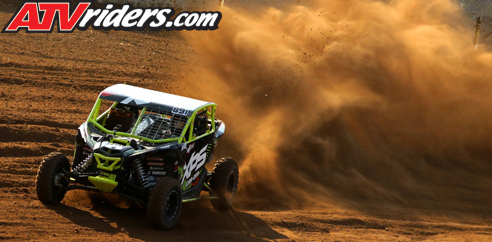 Can-Am's Kyle Chaney charged his way to the front early on Sunday, which he held to the checkered flag for the win
"I got out in front of Tim and ran my own race," said Chaney. "I was able to stay smooth and calm. I saw Johnny back there hit Tim and felt bad for Tim. He took a bad line off to the right and I was able to get by him. My Can-Am worked great."
Chaney was the picture of consistency all season. He scored six consecutive second-place finishes to start the season before earning his first victory at Bark River. Though he won two more races, and scored three additional podiums, his fifth-place effort after cutting down two tires at the last race in Crandon stood out for him.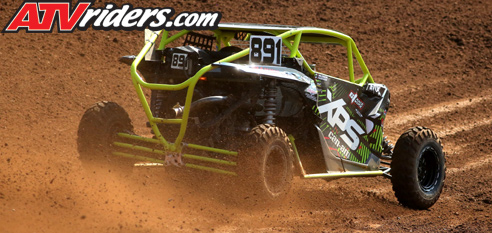 Can-Am's Kyle Chaney ran a near flawless race on Sunday, which allowed him to easily take the win & clinch the TORC Pro Mod UTV Championship at ERX Motor Park
"That one race really won this championship," said Chaney. "I had two flat tires and still managed a good finishing position and some good points. That race saved our season. This didn't come easy. It took the whole team to do this."
Chaney's title cemented Can-Am's new X3's reputation as the car to beat. Can-Am Racing Project Leader Jeff Leclerc commended the hard work Chaney put in this season.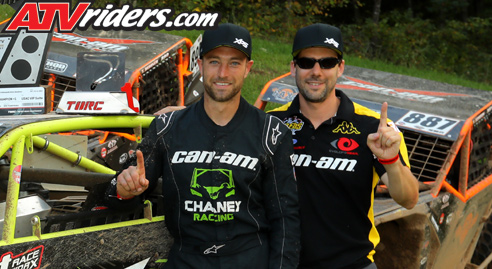 Can-Am's Jeff Leclerc (right) celebrated with Kyle Chaney (left)
"It shows that when you combine a great driver with a great machine the results are there," said Leclerc. "The way the rules are set, it makes for an even playing field and it makes for great racing. It proves that the rulebook is perfect. The X3 is a great platform here, in the desert, and also in the woods. We're having success everywhere in North America. We're proud of that platform and our market share is growing after every race."