JH Racing's Johnny Hale has barely rode this winter after injuring his wrist at the ATV Pro Challenge in October, and he dealt with arm pump in both motos since he hasn't had much seat time or training over the winter. Hale still managed to finish the day 5-3 for third overall in the Open Expert class. Hale plans on training hard over the next month to prepare for heading to Georgia for the MX Nationals.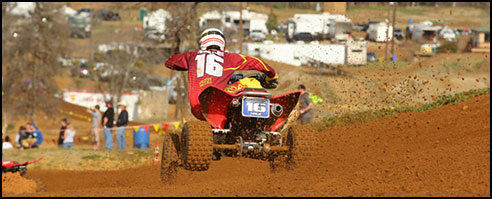 Johnny Hale finished out the day 5-3 for third overall
ATV racing new comer, Alex Woskob, made his ATV racing debut in the Open Expert class at the TQRA opener, and he looked more like a seasoned veteran than a first time racer.  Woskob raced motorcycles for years growing up, but he hang up his helmet five years ago, but John Natalie convinced him to give ATV racing a try with the Natalie Experience team, and amazingly, just over a month since he first started riding an ATV, Woskob is already racing in the Open Expert class.  
In Woskob's first ever gate drop on an ATV, he grabbed the holeshot ahead of John Natalie and Thomas Brown in the Open Expert class, and Woskob was able to hold off the pair the entire moto with Woskob taking the first moto win, which really turned some heads for the first time ATV racer.

Motorcycle racer turned ATV racer, Alex Woskob, impressed his competitors as well as the crowd when he grabbed the holeshot and the win in Moto 1
Woskob came out strong again in Moto two, but he didn't get the holeshot, but he quickly worked his way into the third spot behind Thomas Brown.  Woskob held the third spot till the final lap when his chain snapped, which sent him back to a eight place finish, which earned him a fourth overall finish.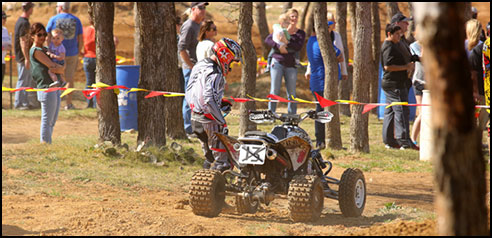 Alex Woskob was running fourth in Moto 2, when his chain snapped taking him out of the race, which dropped Woskob back to a fourth overall finish
Vechery Racing's Tim Dettling has been training in Louisiana with Joel Hetrick, so he also made the trip over to Texas for the TQRA opener, but unfortunately, Dettling, injured his foot while practicing on Saturday when his foot came off the peg and hit the ground when he was landing a jump, and after battling through the pain in the Open Expert class, Dettling still finished fourth in Moto one and seventh overall.
After experiencing a foot injury during practice, Tim Dettling battled through the pain to earn fourth in Moto One.
After an exciting opening round in Texas, the TQRA Racing Series will head to Shogun MX  in Lane, OK for round 2 on March 8-9.