2017 WORCS Racing
Round #9 - Glen Helen Raceway
June 18, 2017
Devore, California

Beau Baron Takes Sixth WORCS Pro ATV Win
WORCS Racing Round 9 Pro ATV Race Report
WORCS Racing - Round 9
ATV Links

Devore, CA (6/20/2017) – Beau Baron padded his points lead in the Rocky Mountain ATV MC WORCS Series presented by Maxxis and Dirt Wheels Pro ATV class by winning his fifth race of the season, at Glen Helen Raceway. Baron won the battle of attrition ahead of the Yamaha of Mike Sloan and the Suzuki of John Rickerd. Only three Pro ATVs were still running at the finish.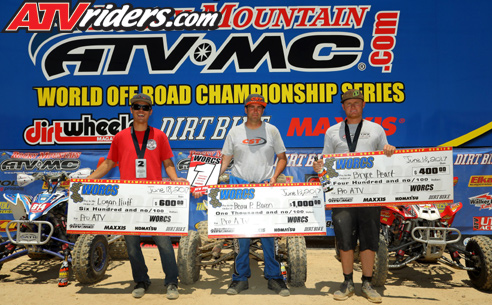 WORCS Racing Pro ATV Podium (left to right)
Logan Huff (3rd), Beau Baron (1st), Bryce Peart (2nd)
With temperatures closing in on 100 degrees all weekend, WORCS officials shortened the Pro and Pro Am races to just 40 minutes from the normal one-and-a-half hours. The sprint was held on Glen Helen's traditional motocross track, along with off-road sections and an endurocross area. They ran Pro and Pro Am with A Class, 4X4 and several age classes.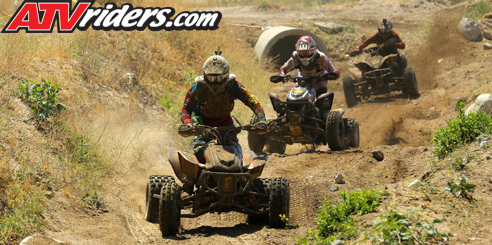 Robbie Mitchell grabbed the holeshot, but Beau Baron grabbed the early lead
With a muddy track and the intensity of the sprint format, Baron, Sloan, Robbie Mitchell and Collins Webster battled hard early in the event. Baron quickly took the lead after holding off Sloan and passing Mitchell, but behind him mud roost began to take its toll. Mitchell dropped out and Webster took second. Then Webster fell out. Sloan had a mechanical issue, and had to pit for repairs. In the end, Baron survived and he won.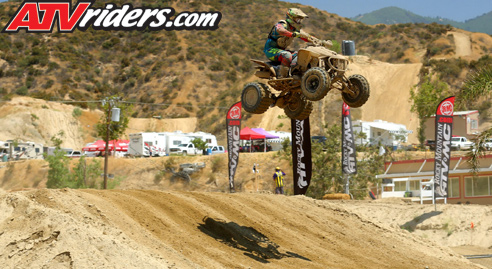 By the midway point of the shortened 40 minute race, Robbie Mitchell and Collins Webster were both out of the race, and Mike Sloan was having engine oil issues
"I guess I was better prepared today," said Baron. "I knew there were going to be a lot of puddles. I used a lot of tearoffs and put a little foam on the air filter. I did everything I could do to hold off Sloan. After I passed Robbie, I just moseyed on."
When the white flag waved, Baron was surprised. Despite the shortness of the race and the carnage behind him, Baron had fun.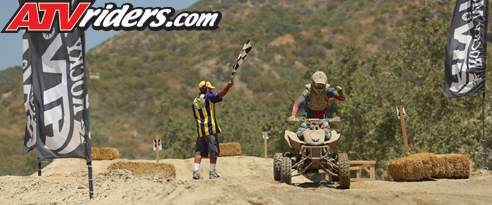 Beau Baron went on to take the easiest win of the season in the WORCS Pro ATV class, which has him holding a 35 point lead
"Honestly, when they threw the white flag, I felt like I was just warming up," said Baron. "This was a fun ride. I was having a great time. I really enjoy what I'm doing, even at the Pro level. It's fun to be racing."
Sloan survived the physicality of the early laps and held on to challenge Baron. Then an oil plug fell out of his engine and he had to pit. Despite having to pit, he came back out and finished second, earning his sixth podium of the season.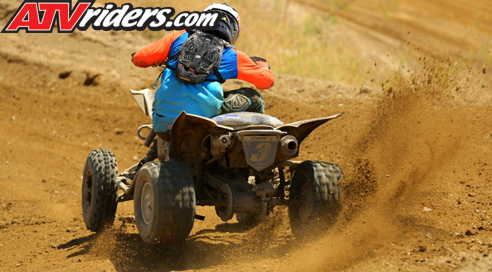 STI's Mike Sloan made a pit stop to fix his oil plug and get more oil before going back out to finish the race in 2nd place in the pro class
"We were bumping and we were all going for it," said Sloan. "It was a 40-minute race so the intensity was high and we all wanted to do well. I ran Beau pretty hard and tried everything I had to get by him. One of the engine plugs came out and my bike started smoking. By that time, everyone else broke, so I put in a new plug, put some new oil in and salvaged a second place."
::CONTINUED::