Vancouver Island, Canada - (9/5/2014) - ATVriders.com and pro motocross racer, Keith Little had the opportunity to test the Can-Am DS450 X MX sport quad. The 2013 Can-Am DS450 lineup features three DS450 models with the standard model along with a cross country (xc) and motocross (mx) versions, and since we had multi-time AMA ATV champion, Keith Little, with us we chose to test out the updated Can-Am DS 450 X mx model.
Former Pro ATV Champion, Keith Little, was our test rider on the 2013 Can-Am DS450 X MX
Little has been riding his entire and life and turned pro in 1997. His experience riding and racing aboard several brands of ATV's made him the perfect candidate to test the new Can-Am DS 450 X mx model. We arrived at the facility and took a good look at the new Can-Am DS450 X mx, which received some updates for 2013.
For 2013, Can-Am has added a FOX suspension system to the DS450 X mx model. The fully adjustable system includes FOX Float X EVOL piggyback shocks in the front and a FOX Podium X piggyback shock in the rear. This suspension is what many of the top Pro ATV racers use and adds great value to the X mx model.
New for 2013, Can-Am upgraded the suspension to FOX Float X EVOL shocks
The FOX shocks are up to six pounds lighter per shock than traditional spring coil shocks. The adjustable Dual Speed Compression allows the shocks to be set up for almost any size rider. They also allow the ride height and bottom out point to be easily changed.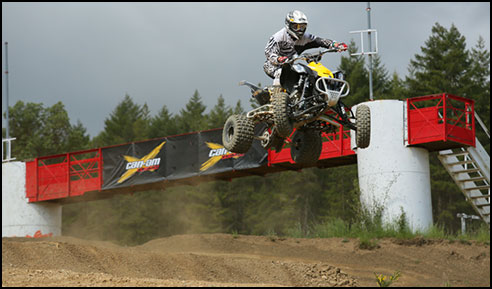 The FOX Float X EVOL shocks are light & are completely adjustable for fine tuning