2013 CanAm Outlander MAX 1000 Two Up Utility ATV Links
Hickory, North Carolina (7/5/2013) - CanAm hasn't left anything to the imagination with their 2013 line of Can-Am Outlander MAX two up utility ATV models, and for 2013, the Can-Am Outlander MAX comes in the DPS, XT, XT-P and Limited model.  These ATV's are arguably the best two up models produced and we had a chance to get up close and personal with the all-new 2013 Can-Am's.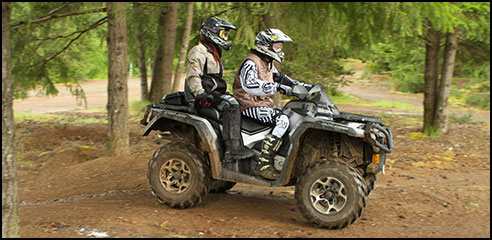 The 2013 Can-Am Outlander MAX shares all the same features as the Can-Am Outlander but has room to seat two comfortably!


The Can-Am Outlander MAX models have plenty of brand new features while still maintaining all of the characteristics of the second generation Can-Am Outlanders. They have an eight inch longer wheel base, a new comfortable passenger seat complete with Dynamic Passenger Comfort and a versatile convertible rack system.
The rear seat on the Can-Am Outlander is slightly higher than the drivers seat for improved passenger vision
A great feature of all the Outlander MAX models is the redesigned structure of the ATV; the all new chassis has a 59-inche wheel base and is able to deliver awesome performance for all levels of riding, whether supporting one rider or two. The stability gives driver and passenger the ability to cruise comfortably all day.
The Outlander MAX offers a great two-up design that allows for ultimate comfort for both passenger and driver. The seat has an all new design with a new shape, better handles and increased support.
The 2013 CanAm Outlander MAX is deigned to fit two passengers comfortably with a removable rear seat, high passenger foot pegs, and large grip handles