Paso Robles, CA (11/20/2014) -
The 2015 Kawasaki Mule Pro FXT is Kawasaki's flagship workhorse UTV that has tons of torque and is versatile enough that it easily goes from working on the farm to taking the entire family out for an adventure.
ATVriders.com had previously tested the Mule Pro FXT in Lincoln, NE, but Kawasaki wanted everyone to get a feel for the vehicle in real life applications and what it is capable of as a work vehicle.
Kawasaki invited us out to the Paso Robles wine country in California to test the 2015 Kawasaki Mule Pro FXT in real world conditions at the Margarita Vineyard
The folks at Kawasaki brought us out to Paso Robles wine country in California for an adventure event. Paso Robles, or "Pass of the Oaks", is a community of 30,000 nestled in the coastal mountain range of central California. Paso Robles has always been renowned for its thermal springs. The Salinan Indians, the most historical inhabitants of the area, were here thousands of years even before the mission era. The area was known as the "Springs" or the "Hot Springs." The Native Americans, and later the Mission Fathers and their congregations, found relief from various ailments in the therapeutic waters and soothing mud baths.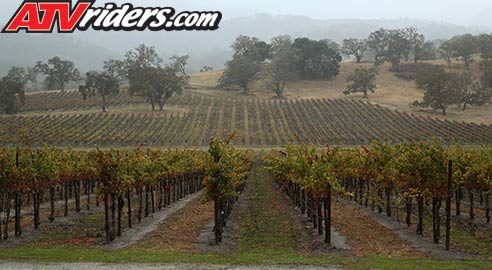 Paso Robles area has seen a dramatic increase in vineyards are the past twenty years, and now over 200 vineyards are operating in the region, but on our trip , we visited both the J Dusi Vineyard & Margarita Vineyard in nearby Santa Margarita, CA
The first night of our adventure, we all met up at the J Dusi Vineyard for dinner. The Dusi family immigrated from Northern Italy in the 1920's and established their winery and were one of the first to bring the Zinfandel variety of wines to California.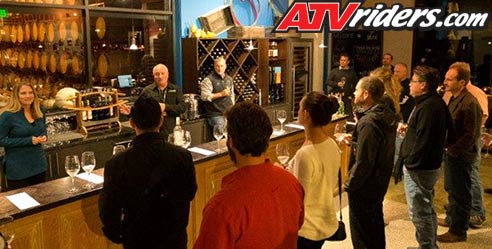 On our first night, Kawasaki welcomed us with a wine tasting at the J Dusi Vineyard
We were treated to wine tasting and an incredible dinner in their wine cellar where we were surrounded by barrels of wine from this year's harvest. It was a great experience; one that we will not soon forget.
We also ate dinner at the J Dusi Vineyard in their wine fermentation room, which was a very unique experience
The next day we went out to the Ancient Peaks Winery where we checked out the Margarita Vineyard and Ranch. It is a 14,000 acre property that surrounds the city of Santa Margarita.
We visited the Ancient Peaks Winery on the second day that is nestled on 14,000 acres that surrounds the city of Santa Margarita, California