KYMCO Maxxer 450i ATV Links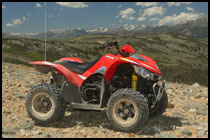 2012 KYMCO Maxxer 450i ATV
Coleville, CA (11/1/12) – The want for an all in one quad has seemed to grow throughout the years. Riders want a quad they can work on and play on. KYMCO has introduced a quad that is tough enough to do the work of a utility, but sleek and sporty enough to blaze trails with your buddies.
This sport performance ATV is the KYMCO Maxxer 450i Sport Utility ATV. The Maxxer 450i ATV not only has more features than you can count, but also comes with a consumer friendly price tag, $6,899.00 MSRP.
The KYMCO Maxxer 450i sport utility ATV is great for a rider who wants a bit of everything. The Maxxer features shift on the fly two wheel drive and four wheel drive, a 442cc liquid cooled engine, an automatic CVT transmission and independent rear suspension. The aluminum alloy wheels boost the ATV's sporty look while the 985lb towing capacity shows how hard it can work.

KYMCO set up a display at the Eastern Sierra ATV & UTV / SxS Jamboree in Coleville, California with several of their 2012 ATV & SxS models including the UXV 500 SxS , MXU Utility ATV, Mongoose Youth ATV, & the Maxxer 450i Sport Utility ATV
ATVRiders.com attended the Eastern Sierra Jamboree in Coleville, California where KYMCO provided a brand new 2012 Maxxer 450i ATV for us to ride. The Jamboree explored the Eastern Sierra mountain's and offered a wide variety of terrain to put the Maxxer to the test. We conquered sandy hill climbs, hard pack, rocks and creeks on our ride.
Joining us on our ride was long time ATVriders.com forum moderator Erik Wilkin, better known as "Wilkin250r." Wilkin lives less than an hour away from the Eastern Sierra Jamboree, and he was happy to come out and join ATVriders.com's Harlen Foley for a day of riding in the mountains.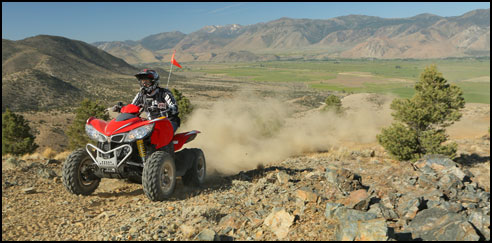 The 2012 KYMCO Maxxer 450i Sport Utility ATV features a very comfortable ride for both sport and utility ATV riders. You can ride the Maxxer 450i aggressively on the trails and still be able to use as a work machine