2015 KYMCO UXV 450i Links
Union, SC (9/1/2014) -
New for 2015, Kymco USA has introduced the UXV450i line up of SxS vehicles. Kymco first released their UXV line of UTV vehicles in 2009, and has been making steady progress in developing new units to accommodate its growing budget minded customer base while keeping quality a top priority. The manufacture has hit the nail on the head with the KYMCO UXV450i.
When Kymco introduces a new product, they are always sure to offer several editions of that machine and have four versions of the UXV450i available. The first is the Kymco UVX450i base model, which starts at a reasonable $7999.00, about the same price as many ATV's and the UXV450i Camo edition that starts at $8499.00. Next up is the UXV450i Turf, with an open, selectable rear differential that starts at $8499.00 and to celebrate their 50th anniversary, Kymco has introduced the UXV450i LE 50th, which is metallic gold in color, with the 50th year anniversary logo and starts at $8699.00.
| | |
| --- | --- |
| | |
| | |
| | |
| --- | --- |
| | |
| | |
When Kymco designs a new product, it is about a 2 year process for them to go from design to completion. That may seem like a long time, but the company prides itself on not only producing machines that are reasonably priced, but also are of good quality, especially in an all-new machine. The Kymco UXV450i line is completely new from the ground up. It is a sturdy machine that features a new narrower chassis that makes trail riding a little easier with its 56.7" width as compared to the UXV 500 and UXV 700 models that are 59" wide. The wheel base has also been reduced from 113" to 106.3, which has helped to improve the turning radius and increase agility.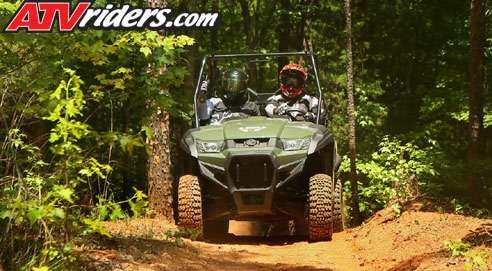 The all-new 2015 KYMCO UXV 450i features a narrow width at 56.7" which is just over two inches narrower than the KYMCO UXV 500 & KYMCO UXV 700
The 2015 Kymco UXV450i looks good on the inside and out. We were very impressed by the amount of storage space the vehicle had to offer.
A large storage compartment & access to the radiator can be found by removing the hood
There is a locking glove box in the cab, two storage compartments under the bench seat, one covered, one uncovered, that allow easy access to the battery box, air filter and valves. There is also a sealed storage compartment under the hood and last but not least, an enclosed storage compartment in the tailgate. The tailgate storage isn't large but it is ideal for storing ropes, tie-downs and tow straps.

The KYMCO UXV 450i has a unique storage compartment hidden within the tailgate