Polaris Sportsman ATV Links
Patton, PA (11/21/2013) - Polaris launched the original Sportsman 500 seventeen years ago in 1996, and has been one of the most successful and popular units on the Polaris ATV lineup with over 600,000 sold. Through the years Polaris has made numerous updates on the Polaris Sportsman 500, but for 2014 comes the biggest update yet.  Replacing the Sportsman 500 is the 2014 Polaris Sportsman 570 Utility ATV that comes with a proven 570cc electronic fuel injected engine, new styling, and optional electronic power steering.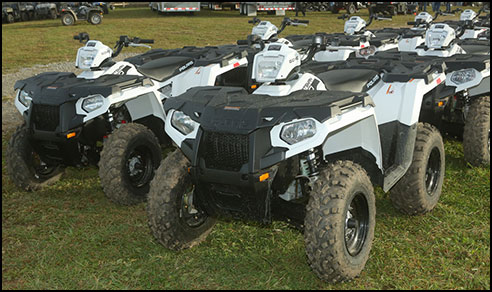 2014 Polaris Sportsman 570 Utility ATV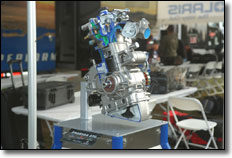 The proven Polaris ProStar 570ccc EFI engine was barrowed from the Polaris RZR 570 SxS
The ProStar 570cc EFI engine that was borrowed from the popular Polaris RZR 570 SxS features dual overhead cams with 4 valves per cylinder that produces an impressive 44 horse power; a 20% increase over the original Polaris 500 Sportsman. With its new powerful engine, it makes it competitive with some of the ATVs in the big bore segment. The new Polaris Sportsman 570 actually produces 2 more horsepower than the premium Polaris Sportsman 550 Utility ATV.
| | |
| --- | --- |
| | |
| 2014 Polaris Sportsman 570 Utility ATV | 2013 Polaris Sportsman 500 Utility ATV |
The new electronic fuel injected engine provides an abundant amount of smooth power and is a lot peppier than its carbureted predecessor. Another advantage of the electronic fuel injection is that you no longer have to fiddle with the choke making the Polaris Sportsman 570 easy to start.
Along with a new EFI engine Polaris also paired it with a more powerful 560 watt stator which is a 40% increase of electrical output from the Polaris Sportsman 500 H.O.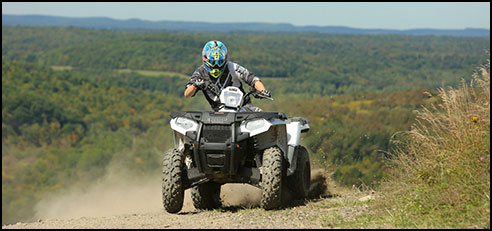 The 2014 Polaris Sportsman 570 is much more powerful than its predecessor, the Polaris Sportsman 500. The new electronic fuel injected engine provides smooth immediate power throughout the RPM range