Polaris Sportsman WV850 Links
Marble Falls, TX (12/1/2014) -
We were invited out to Hidden Falls Adventure Park in Marble Falls, TX earlier this year to test out several new units from Polaris including the all-new 2014 Polaris Sportsman ACE and the heavy-duty 2014 Polaris Sportsman WV 850 with non-pneumatic Terrain Armor tires (NPTs).
Originally designed for the United States Military, Polaris introduced the heavy-duty work oriented Polaris Sportsman WV850 to the public in November of 2013. Most notable on the Polaris Sportsman WV850 is the eye catching non-pneumatic Terrain Armor tires. These special tires were developed for the most extreme conditions and do not require any air unlike conventional tires.
"We have seen great success with NPTs in military and disaster relief scenarios and are excited to bring this technology to the consumer market for extreme work applications." said David Longren, vice president of Polaris' Off-Road Division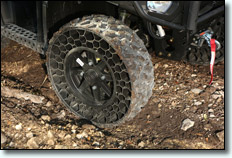 The 2014 Polaris Sportsman WV 850 features military grade Terrain Armor non-pneumatic tires that require no air & are very durable
The non-pneumatic Terrain Armor tires have proved to be very beneficial and crucial for many military and disaster relief missions throughout the world. These special tires allow the rider to not worry about ever getting a flat and are ideal for those who are riding in areas like a natural disaster sites where you may run over nails, glass, and other sharp objects. On the consumer side of things, Polaris has adopted this technology and added it to their proven Polaris Sportsman 850 utility ATV platform, along with many other features that improve its durability on the worksite, farm, or trail.
Hidden Falls Adventure Park features around 3,000 acres of rugged terrain that is open to off-road enthusiasts year around.  The park provided a great place to test the 2014 Polaris Sportsman WV850 with its many miles of rocky trails.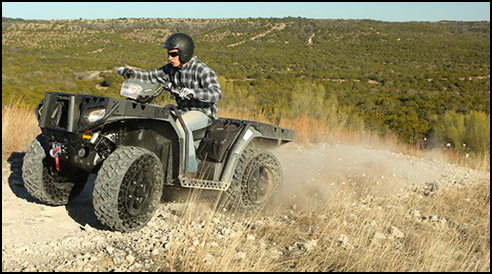 We test rode the new 2014 Polaris Sportsman WV 850 at the Hidden Falls Adventure Park that is located about an hour northwest of Austin, TX
Within minutes of riding Polaris Sportsman WV850 were pleasantly surprised how well the non-pneumatic Terrain Armor tires work. With their honeycomb design, it allows the tires to actually flex adding another form of suspension to the ATV. The tires eliminate any worry about getting a flat and they give you the confidence to ride over sharp obstacles that you would normally detour around. In one particular section we rode, we were able to blitz over sharp rocks at 30 mph with no problem.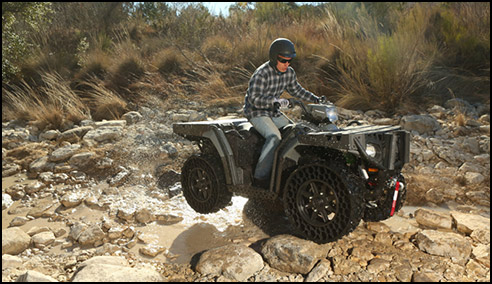 The Terrain Armor non-pneumatic tires provide cushion when hitting rocks at high speed
The non-pneumatic tires do take some getting-used-to however, and cornering is a little different aboard the Polaris Sportsman WV850. Unlike conventional tires, the non-pneumatic Terrain Armor tires do not feature any sidewalls, meaning the tires don't hook as well when corning aggressively.