The Polaris DYNAMIX system has a special screen in the RIDE COMMAND's seven-inch touchscreen environment. It shows a graphic representation of the shocks and color codes them from green to yellow to red based on stiffness. Other than it looking super cool, it also helps diagnose the system, making sure it's working correctly and see in real time how your suspension is reacting to the terrain.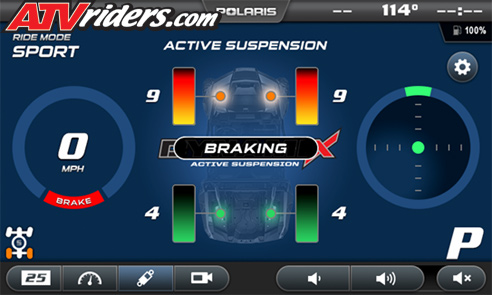 The DYNAMIX Active Suspension displays the adjustments to the suspension in real-time with a range of adjustment from 1 to 10 with the suspension adjusting to accleration, airborne, braking, & cornering
It also features three pre-defined user modes: Comfort sets the suspension in the softest setting for the plushest ride; Sport offers the ultimate performance and high-speed handling; and Firm locks the suspension into maximum compression dampening for the most extreme riding conditions. Modes are chosen through a switch on the dashboard. Unfortunately, these modes are not user tunable, but the ECU can accept software updates via dealer software.
Temperatures ranged from the 80s in the morning to the 100s by mid-afternoon. We did a nice loop on the whooped out trails. We tested the suspension through some G-outs, washes, and high-speed turns. It definitely performed, especially in the high-speed sections. When we stopped for lunch at the Pioneer Saloon we sat down with Louis Brady, the Polaris engineer responsible for the new innovation.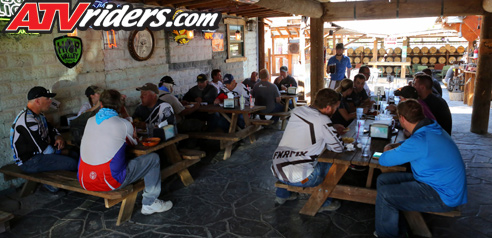 We stopped at the Pioneer Saloon for a great lunch and break from the heat before returning from our test drive
Brady has been working on the system since its first prototype six years ago. To say he's proud of it is an understatement.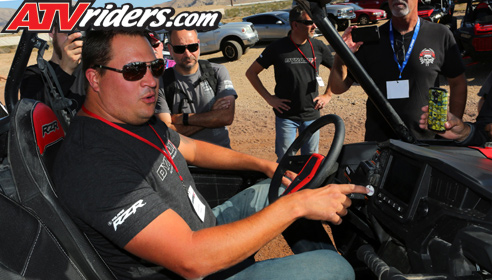 Polaris' Louis Brady provided a detailed overview of the new DYNAMIX Active Suspension, which appears from our intial test drive to be a real game changer in the SXS Market
"This has been a labor of love for me," said Brady. "We've been working on this for a long time. The first prototype came out in 2011. This is way more than an electronic clicker. The heart and soul is that it's an intelligent system."
The DYNAMIX system is available now on the 2018 Polaris RZR XP Turbo DYNAMIX Edition, which is priced at $25,999.