2012 Yamaha YFZ450 ATV Links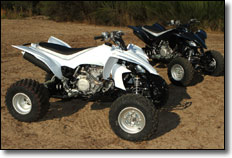 2012 Yamaha YFZ450 ATV
Winchester Bay, OR (10/14/2011)
- Ever since the economic downturn in 2008, the ATV industry has taken a loss in sales, as many die-hard riding enthusiasts were forced to tighten their belts and cut back on recreational expenses. In addition, the failing economy also affected financing for those seeking to buy new machines, as credit restrictions put a new ATV out of reach for many individuals. These factors spurred Yamaha to come up with a solution to the problem and help out their loyal consumers by re-introducing the original YFZ450 sport ATV to their 2012 line up, with a few changes to help keep costs down for the customer.
The new 2012 Yamaha YFZ450 is a true 450cc machine that offers true 450 class performance, but at a price that is more in line with other manufacturer's 400cc models. The purpose of the re-introduction of the YFZ450 was to offer an ATV that is priced to bring back the core demographic of consumer by giving them a quad that has proven itself in durability and performance, while keeping it affordable.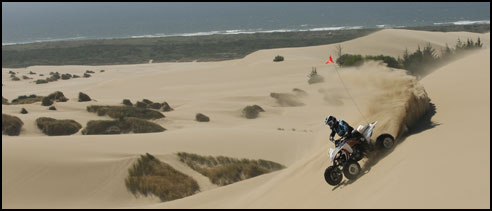 Yamaha chose to host the 2012 YFZ450 Sport ATV intro at the Umpqua Dunes in Winchester Bay, Oregon
While we at ATVRiders.com are already familiar with the previous YFZ450 models, we did not hesitate to accept Yamaha's invitation to give the new 2012 YFZ450 a try. We were very pleased to find that Yamaha had picked the Umpqua Dunes in Winchester Bay, Oregon for our test ride. Winchester is known for having the tallest coastal dunes and offers incredible scenery and sweeping views from the tops of those dunes. We also thought this would be a good place to test out the YFZ450 because the redesign of the machine puts it in more of a recreational class of quad instead of being race inspired like its cousin the YFZ450R.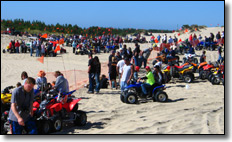 Thousands of off-round enthusiasts flock to the Oregon Dunes every year for the Dune Fest (2011 Dunefest Report)
Upon arriving at the dune riding area, we were greeted by incredible late summer weather and clear skies that offered up plenty of great photo opportunities. The Winchester Bay dune area is located just four miles south of the town of Reedsport and is the home of Dunefest, an annual event that draws thousands of ATV enthusiasts to the area every summer. The riding area is overlooked by the Umpqua Lighthouse in Umpqua State Park, near Discovery Point and offers a striking contrast to the blue skies and pale fluffy sands of the area. It is also home of Banshee Hill where riders can put their horsepower to the test on the steep and narrow sand hill.