Walker Fowler GNCC Racing Interview
Walker Fowler GNCC Pro ATV Racer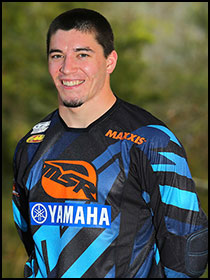 #2 Walker Fowler
GNCC Pro ATV Racer
Florida (2/17/2015)
- Am-Pro Yamaha's Walker Fowler had one of his best GNCC racing seasons in 2014 as he battled six-time GNCC Pro ATV Champion, Chris Borich, to the finish line for the number one plate, but Fowler finished on Borich's rear bumper for the #2 plate after an incredible race to the finish at the Ironman GNCC in Crawfordsville, Indiana.
While Walker Fowler just missed out on the GNCC Pro Championship, he has been working hard over the winter in preperation for the 2015 GNCC Racing season, and he will once again be chasing after that number one plate for 2015 on his Yamaha YFZ 450R.
We had a chance to spend some time with Walker Fowler for a few days in Florida at Cole Richardson's house and the Florida Trail Riders race to catch up on his plans and outlook on the 2015 GNCC Racing season, which kicks off in less than a month in Palatka, Florida for round one on March 7th
ATVriders.com: Walker Fowler, what have you been doing over the winter?
Walker Fowler: Just took some time off after the Ironman and kind of got my bearings after that crazy year and came down here to Florida and started training the day after Christmas and riding with Cole Richardson at the Richardson compound, I can't thank them enough for sure! Just riding a lot and we have Landon Wolfe and Josh Merritt down here too to ride with. We have all four of us pushing each other in the gym too, and we've been at it hard with just about a month here left before the first race.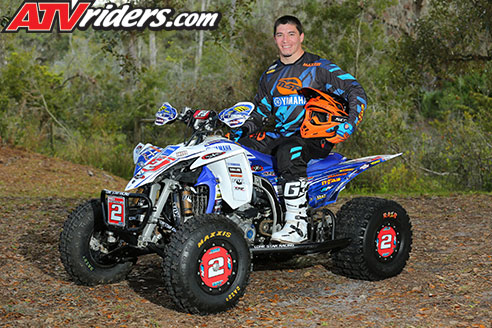 For 2015, #2 Walker Fowler will once again be racing for AmPro / Yamaha GNCC race team on the Yamaha YFZ 450R
ATVriders.com: How is your GNCC race program for this season compared to last season?
Walker Fowler: It's really similar, with Yamaha, FOX Suspension, Lonestar Racing Components, Maxxis Tires, everything is pretty much the same thing as last year, and we are doing some pretty extensive engine testing. I felt like I was a little bit down on power last year, but our Yamaha's were super reliable, and I think that really proved a lot in the end and kept us in the game. After seeing what Chad Wienen's motocross engine could do in the woods, that really opened our eyes to explore a little bit and we are just doing a bunch of testing.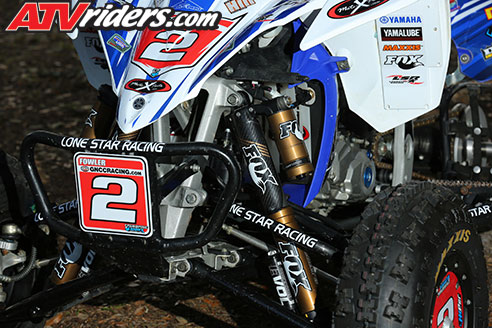 Walker Fowler has many of the same sponsors as last year including Yamaha, FOX, Lonestar Racing, Maxxis, Moto-Xperts, and more...
::CONTINUED::