John Deere RSX 850i Gator SxS Deer Bow Hunting
West Virginia Bow Season Deer Hunt
Hedgesville, WV (10/8/2013) - The John Deere RSX 850i Gator roared to life as I awaited my youngest son Ryan to climb in with one very large smile on his face. Months of practice with his Matthews DXT bow had lead us to the opening morning of the 2013 West Virginia archery season for whitetail deer, which was now just hours old.

As we rode towards his hunting stand he relayed the mornings hunt with all the excitement a young hunter could ever have.
Bow deer hunting season opened up recently in West Virginia & ATVriders.com own Ken Hill & his son Ryan Hill were out the first day to see what they could bring in!
Hours earlier, we had slowly approached his stand as he climbed out of the new John Deere RSX 850i to hopefully take his first ever bow kill. The darkness was pierced by the headlights as I drove away, knowing all I had taught him was now about to be used.
Ryan Hill makes his way to his tree stand on the first day of bow season for deer hunting
I imagined in my mind his stealthy approach to his ladder stand, going slow and cautious to not spook any deer that may be close. Soon he would be climbing the ladder and strapping in cloaked in darkness that would last for another hour. Strapped safely in, bow in hand and arrow nocked, the world would slowly awaken in front of him like many times before in his young hunting career.
>

The weapon of choice for this hunt was a Matthews DXT Compound Bow with Rage 2 blade broadheads & of course a John Deere RSX 850i Gator SxS
Bow hunting success often times is not measured by actually taking an animal, it is a close connection with nature that is often misunderstood by those that do not hunt. Here it is a lifestyle, one of a self sustaining nature, that provides our family with meat for the entire year.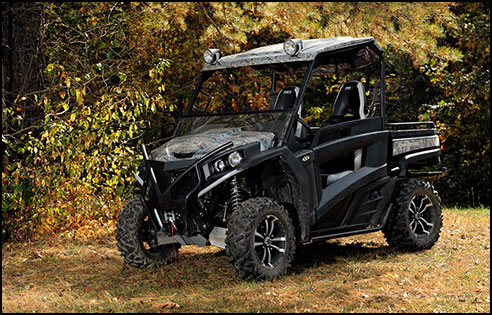 2013 John Deere RSX 850i Gator SxS Trail edition comes standard with Alloy Wheels w/Maxxis Bighorn 2.0 tires, Warn Winch, Brush Guard, Cargo Box rails, rear bumper, and we chose to add several aftermarket accessories including roof lights
The addition of the latest offering from John Deere was a blessing, saving us laborious work if indeed he or another family member was successful in hauling out a deer.