2014 Yamaha YFZ450R Links
2014 Yamaha Raptor 700R Links
Glamis, CA (2/26/2014)
- Yamaha held their12th annual Special Edition Glamis Sand Dunes media ride this week, so we had a chance to put the newly updated 2014 Yamaha YFZ 450R SE to the test in the sand along with the Yamaha Raptor 700R SE.
For 2014, Yamaha made several major updates to the Yamaha YFZ450R with new styling and ergonomics, industry first Assist and Slip (A&S) clutch, increased engine performance, suspension updates, and new wheel design and Maxxis tires. Also, the Yamaha YFZ450R is now being manufactured in USA at the Yamaha factory in Newnan, Georgia.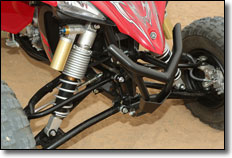 The 2014 Yamaha YFZ450R SE comes with a GYTR front bumper
The 2014 Yamaha YFZ 450R Special Edition models is available in Crimson Red and Black with a tribal graphics kit, which really makes its stand out. The Yamaha YFZ450R also features a GYTR black aluminum front bumper, and it has a MSRP of $8,949, which $350 more than the base model.
In 2013, the Yamaha Raptor 700R received updated styling and performance with new aggressive fender styling, which included a new hood design. In addition, Yamaha upgraded the Raptor 700R with twin piston rear brake caliper for increased stopping power and new Maxxis tires, and it has remained the same for 2014.
The 2014 Yamaha Raptor 700R Special Edition model is available in two new color options with Midnight Blue with tribal graphics and Metallic Grey/White, which has skull / ghost rider themed graphic kits.
The 2014 Yamaha Raptor 700R SE comes standard with aluminum GYTR front bumper & heel guards for added style and protection
The Raptor 700R also comes with a GYTR aluminum front bumper along with GYTR aluminum heel guards, and the Yamaha Raptor 700R is also manufactured in the USA at the Georgia factory.

Yamaha set us up in Camp-N-Style Weekend Warrior Campers for the event
Once again, Yamaha had us setup to stay in Camp-N-Style campers, and while the Camp Chef crew weren't able to attend this year's event, they sent down several of their outdoors grills, along with their new Artisan Pizza Oven accessory, which allowed us to cook our own pizzas, and they were awesome.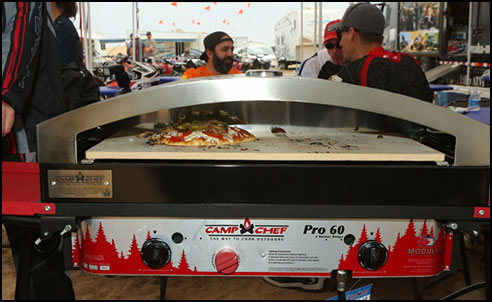 Camp Chef provided their Artisan Pizza Oven & a number of other cooking accessories for the Yamaha Special Edition Intro at the Glamis Sand Dunes