2013 Yamaha Raptor 700 & 700R ATV Links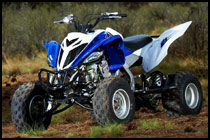 2013 Yamaha Raptor 700R ATV
Bend, OR (6/27/2012)
-Yamaha is known for their extensive Sport ATV lineup. The Yamaha Raptor 700 sport ATV has been the number one selling sport ATV on the market for years, and its large displacement engine, smooth comfortable ride, and quality manufacturing and engineering are a few of the reasons why it is so popular with ATV riding enthusiast.
We were recently invited out to Bend, Oregon to test ride Yamaha's 2013 "Assembled in the USA" Raptor 700 & 700R Sport ATV. There, we would get to through a leg over the restyled Yamaha Raptor 700 and 700R Sport ATVs at the East Fort Rock OHV Trail System.
We got to test the 2012 Raptor 700 Special Edition ATV last year in sunny Southern California at the legendary Glamis Sand Dunes
It has been a little over a year since I last rode the Yamaha Raptor 700R Sport ATV and would it be a different riding experience for me as last time I was ripping up the sand at the legendary Glamis Sand Dunes in California. The East Fort Rock OHV Trail System in Oregon consists of over 300 miles of trails on 110,000 acres with various terrains that are well marked for all skill levels. All of the trails at East Fort Rock are strictly 50 inches wide, which made for some interesting trails at high speeds! The trails varied between long straight whooped out sections to very tight trails that zigzagged in between the many spruce trees.
The 2013 Yamaha Raptor 700R ATV is at home in the sand dunes & even in the tight woods of the East Fort Rock OHV Trail System in Bend, Oregon
"The East Fort Rock OHV Trail System has unique riding opportunities and there is a great crew that keeps up with trail maintenance and signage. It's a unique area that draws a lot of people in from around the Pacific North West to come ride here." Stated Combined Off Highway Vehicle Operations (COHVOPS) Acting Program Manager Matt Able.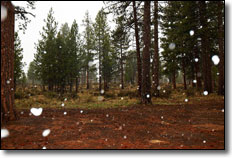 Weather was in the low 30's with sleet, snow, and rain showers occuring throughout the day of riding
The weatherman forecasted our day of riding to be in the 70's which would make for some great riding but with various terrain and elevation changes between 4,400 to 6,400 feet - Mother Nature had other plans. As soon as we pulled into the East Fort Rock OHV Trail System entrance, it started sleeting. Luckily, as we geared up the sleet held off for a few hours allowing us to get out on the trails without getting pelted too bad – for about an hour or two.