BEST IN THE DESERT
Parker 250 UTV Race
January 7, 2017

Best in the Desert - Parker 250 - ATV Race Report
Duncan Racing's Erin & Drew Simmons Take BITD Pro Quad Win
BEST IN THE DESERT
Parker 250 ATV & SxS Links

Parker, AZ (1/18/2017) - Despite the fact that it was their first race as a team, on a brand new Duncan Racing Honda 450R, brothers Drew and Erin Simmons teamed up to take the BITD Parker 250 Quad Pro win. The race was the season opener for the Best in the Desert Racing Series. Bryan Buckhannon and Don Higbee on a Can-Am Outlander 4x4, finished second, ahead of Jeremy Gray and Robby Cockrell. Defending Pro Champions, Cody Mitchell and David Scott finished fourth.

Just before sunrise, Casey Folks sent off the ATV & Motorcycle Desert racers for the last time and the start will never be the same without him, Godspeed, Casey Folks
The field took the start just before sunrise for a three-lap race on the 80-plus-mile course. Rain in the area prior to the event kept dust to a minimum this year, but the track, which featured deep sand, rough terrain and rocks, was sure to claim its share of victims, and it did.
Despite the rough conditions, Simmons brothers were undaunted on their new Duncan Racing-built #Q5 Antelope Slot/Canyon Tours/B+B Auto Repair/ Honda for the first time at the line, they ran a consistent pace. While others fell back, they stayed strong and won in their BITD Pro Quad debut.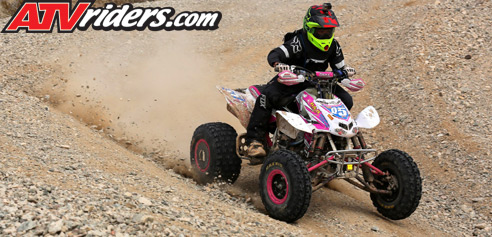 Duncan Racing's Erin & Drew Simmons won the Best in the Desert Parker 250 season opener in the Pro Quad Class
"That was awesome," said Drew Simmons. "For our first Pro team race, it was exciting. We were super stoked to pull off this win. My brother started out the race. He got us up to second. Then I got on the bike and I made it into the lead. Today was the first time we got to see the quad. It was something else. It has tremendous power and everything is dialed in really closely. It's a great bike and is super fun to ride."
Erin Simmons started the race and actually had a hard get off 42 miles in. Shaking it off quickly, he got back on and soldiered forward.
Tireball's Erin & Drew Simmons
"I got the quad back on four wheels and kept going," said Erin Simmons. "I was super excited. I was so nervous going into the race. I knew we had a good chance and I am super stoked about the win."
Don Higbee along with new his new ride and teammate brought home a second place finish. For 2017, Higbee, has teamed up with Multi-time GNCC Pro 4x4 Champion, Bryan Buckhannon, on the Can-Am Outlander 1000. The duo got off to a great start to take the early lead before Higbee hit a rock and damaged the left floorboard.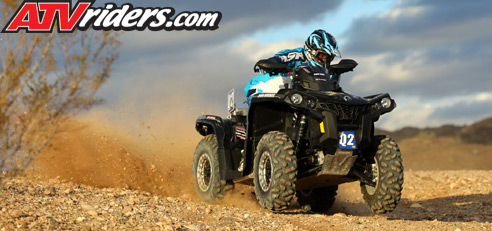 Driven Powersport's Don Higbee switched to the Can-Am Outlander 1000 for the 2017 Best in the Desert Series
"I wadded it up and ripped the whole floorboard off the left side," said Higbee. "So we made it to second and that was the best we could have done. Bryan came in with a healthy 20-minute lead. I took over, hit a rock and crashed. I limped it to the pits, gave it back to Bryan and he limped it home for second. The course was really rough. There were a lot of rocks and whoops. It was a fun course, challenging and rough. Bryan is awesome. We had the only utility 4X4 quad out there and we did great."
::CONTINUED::