BEST IN THE DESERT
Parker 250 UTV Race
January 7, 2017

GMZ BITD Winter Nationals UTV Race Report
Nic Granlund Wins Polaris RZR XP 1000 for Overall UTV Win
BEST IN THE DESERT
Parker 250 ATV & SxS Links

Parker, AZ (1/16/2017) - Yamaha's Nic Granlund put down the fastest race time in the short course UTV race to take home the grand prize, Polaris RZR XP 1000 at the BITD GMZ UTV Winter Nationals Short Course race in Parker, AZ. In addition, Youth RZR Racer, GSP's Dallas Gonzalez, claimed the Youth 170 UTV win to take home a Magnum Off-road built Polaris RZR 170, and Maxxis' Stockton Bulloch took the youth overall UTV win in the Youth 250 class.

It was a bittersweet start to the Best in the Desert season when series founder Casey Folks collapsed during the UTV Short Course race Saturday morning and was flown to Las Vegas after suffering a stroke. Unfortunately, he didn't recover, and the sad news was released on Thursday. Casey Folks may not be physically with us anymore, but he will live on for generations in the minds and hearts of the thousands of off-road racers that had the pleasure to get to know him, and Folks family is in our thoughts and prayers. God Speed Casey Folks.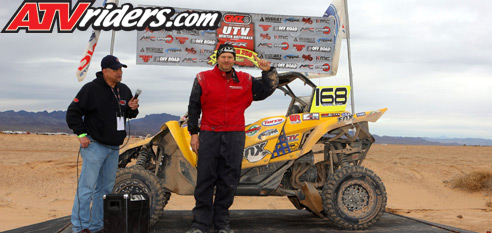 FOX / GBC's Nic Granlund took the Production 1000 & Overall Win at the GMZ Winter National to take home a brand new Polaris RZR XP 1000 as the grand prize
Nic Granlund was quick off the dead engine start of the 1000 Class race in his Yamaha, and Pro Motorsports' Gareth Dihel's moved into the second spot behind him. Granlund avoided the carnage in the first two corners and found himself in the lead. Despite nearly running out of fuel, he held on for the victory. Dihel was second, ahead of Pat Stone's Polaris.
"It was a dead engine start, which is a lot more work in the Yamaha because you have to start it, get the RPMs up and then dump the clutch," said Granlund, referring to the Yamaha's traditional manual transmission. "There was a little carnage in the first two corners.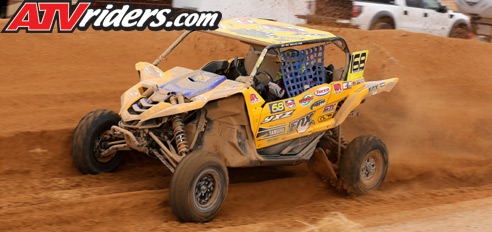 Yamaha's Nic Granlund took over the early lead when several of the competitors out front ran into issue in the first lap
"All of the sudden, I didn't see anyone in front of me and I just hammered down," added Granlund. "With three laps to go, I was low on fuel, and I backed off a little bit. Second place started catching me and I gauged my speed. On empty, I did the final lap and luckily the Yamaha held strong and I got the win. There are advantages to the Yamaha, and I'm really happy with it. It's nice to put it on the box, showing it can do well on a desert course."
Granlund's time even beat out the more powerful turbo cars. Though the 1000 Class race was run first, leaving a rougher racing surface for the Turbo Class, turbo cars have upwards of 60 more horsepower.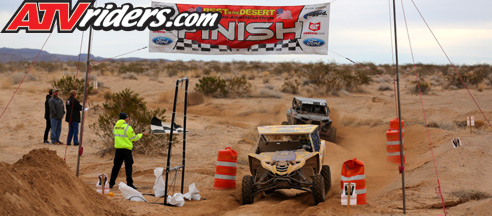 Once out front, Nic Granlund was able to set a blistering pace despite slowing down to avoid running out of fuel at the end to take the win
"We even beat all of the turbo cars," added Granlund. "The majority of the race, I was in fourth and fifth gear. There were some long straightaways where I was pegged for 15 or 20 seconds. I made a decision to go with a 27-inch tire. It worked better with the gearing of the Yamaha and it kept me in the power band."
Gareth Dihel, who was racing David Haagsma's former Polaris RZR, challenged Granlund in the end, but fell just short. He was hoping for that elusive "one more lap."
Pro Motorsports' Gareth Dihel secured a 2nd place finish
"It was an awesome race," said Dihel. "We had good weather and a good turnout. It was an once-in-a-lifetime experience. It was super muddy at the start and we had to work from there. On the last two laps, I got close to Nic. He had a little more horsepower than I did and we got into the lappers. Had we had one more lap, it would have been interesting, but I'm happy with the results."
::CONTINUED::