BEST IN THE DESERT
Parker 250 UTV Race
January 7, 2017

Best in the Desert - Parker 250 - UTV Race Report
ITP's Mitch Guthrie Jr Wins BITD Parker250 UTV Overall
BEST IN THE DESERT
Parker 250 ATV & SxS Links

Parker, AZ (1/14/2017) - Fast pit work and a perfectly prepared Polaris RZR handed Mitch Guthrie Jr. the victory in the GMZ Winter National Parker 250, the season opener for the Best in the Desert Racing Series. Guthrie Jr. finished first overall and won the UTV Turbo Class, ahead of Cory Sappington, Branden Sims, Tomas Sallvin and Phil Blurton. Louis Chamberlain won the 1900 Production Class, and Sheldon Creed finished first in the UTV Unlimited Class.

While there was plenty to celebrate at the Best in the Desert season opener, BITD founder Casey Folks collapsed during the UTV Short Course race Saturday morning and was flown to Las Vegas after suffering a stroke. Unfortunately, he didn't recover, and the sad news was released on Thursday. Casey Folks may not be physically with us anymore, but he will live on for generations in the minds and hearts of the thousands of off-road racers that had the pleasure to get to know him, and Folks family is in our thoughts and prayers. God Speed Casey Folks.

Mitch Guthrie Jr., with co-driver Kurtis Elliott, drove his #951 Mystik Polaris in the race that saw 80 UTVs take the start. After snagging second early in the 250-mile event, Guthrie Jr.'s pit crew got him out first on the final lap and he cruised to victory.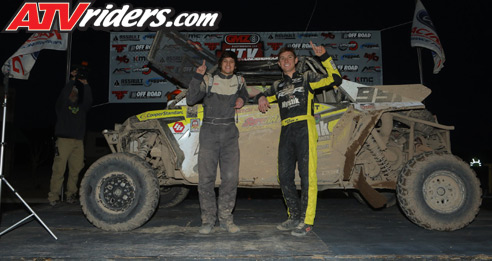 Mitch Guthrie Jr claimed his first BITD Pro UTV Desert win at the Parker 250 season opener
"It was an awesome day," said Guthrie Jr. "The car ran flawless. It was just 250 miles of having fun. The BITD does such an awesome job, and they put on a great series and it's great to see so many entries this weekend."
Guthrie Jr. had a bad luck season in 2016 when little issues took him out of contention in several races. Guthrie Jr. was on a mission to change that bad luck and that mission was accomplished. While carnage surrounded him, his Polaris was dialed in.
ITP's Mitch Guthrie Jr took the win by over 7 minutes over second place
"People were blowing belts and all sorts of stuff," said Guthrie Jr.. "We came into the pits on the last lap and we were right behind Branden Sims. He was gassing up and we were gassing up. We got out of the pits in front of him. From there, we just had a really clean race. We had so many problems last year. I knew we had the speed, but things just didn't go our way. So winning this race was huge."
Cory Sappington, along with co-driver Scott Sappington, drove his trusty #904 Desert Toyz Can-Am to second after starting 19th. He proved just how tough Can-Am's Maverick is before he debuts a new Maverick X3 at the Mint 400.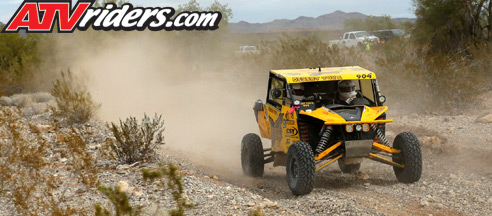 CST / ELKA's Cory Sappington secured the second spot at the Parker 250 season opener in his Can-Am Maverick, and he is building a new Maverick X3 for the Mint 400 in March
"This Can-Am Maverick, this is probably the last race for her," explained Sappington. "She has 5,445 race miles. This is an awesome machine. It has the original engine, transmission and differentials. This is awesome. I needed this so badly. We've worked so hard and it's nice to do well at this first race; it sets the tone for the season."