GBC Heartland Challenge SXS Race Report
Kyle Chaney Takes GBC Heartland Challenge UTV Overall Win
2017 GBC Heartland Challenge Links

Carlisle, IA (8/25/2017) -The GBC Motorsport's Heartland Challenge celebrated it's tenth running of the event this past weekend, and with hot and dusty conditions, it was a fast, furious, and grueling event! XPS / Can-Am's #191 Kyle Chaney made his way out for redemption at this year's GBC Heartland Challenge and came away with a clear victory aboard his turbo-powered Maverick X3. In second place, the Team Dr Powersports #41 entry of Jason Watt, an Iowa native also running a Can-Am X3, put up a good fight through the dusty course to land on the box. Bringing home third place on the podium was the Team RW / SSi Decals / Team UXC #45 Polaris RZR of Kevin Trantham.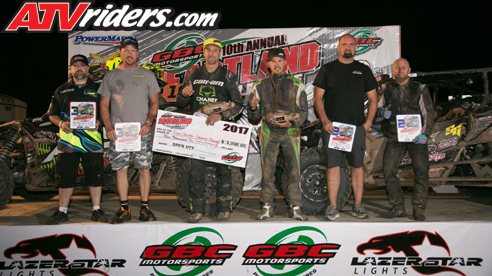 GBC Heartland Challenge 4 Hour UTV Open Podium (left to right)
Kevin Trantham (3rd), Kyle Chaney (1st), Jason Watt (2nd)

This year's GBC Heartland Challenge was extremely competitive with 57 entries in total, with 13 of them being in the premier "Open" class and 20 of them in the "UTV 1000" class which also saw a big payout of $3,000 and $2,000 for each class, respectively. There was also a dedicated "GBC Challenge" section specifically built for the UTV racers which not only challenged the racers, but their machines as well.
This section significantly saved the teams time on the course, but also put the machine as risk of a breakdown due to the gnarly obstacles in their way such as; huge chunks of concrete, rocks, tires, logs, and a big dirt wall to climb over. Racers who were brave enough for this sections surely would be rewarded for their efforts.
Maxxis' Kyle Chaney grabbed the early lead in the land rush style start
With an unbelievable lack of rain in the past two months, Western Iowa has been in a drought, unlike last year's conditions. The dust was surely to be one of the hardest obstacles at this event and whoever got out into the lead first was surely to benefit from the clean air. Dr. Powersport's Jason Watt snagged the early hole shot but two-wheeled it around the off-camber section of the entry point, allowing Maxxis' Kyle Chaney to dive into the inside of Watt before entering the first forest section. From this point forward, Chaney drove without fear and set a blistering pace for the entire remaining 4-hour event.
#191 XPS / Maxxis Tires / Can-Am Maverick X3's Kyle Chaney secured his second career win at the Heartland Challenge
"I am super stoked to be able to bring this XPS / Maxxis Tires / Can-Am X3 out to the Heartland Challenge because I knew how gnarly and rough this event can get and I wanted to put the car through it's paces. The suspension travel and low center of gravity and of course the all-out power really made for an amazing race. The only issue we had was with my light bar for the night stage. We couldn't get it to turn on at all, so we stopped into the pits and had them gas up the car, and we finally figured out the wiring for the switch came loose and once we got that fixed we were good to go with the car. I actually ended up getting a little sick about 2 hours into the events, and I quit breathing properly, but finally got myself back to being calm and collected and got back on pace for the remainder of the event," said Chaney.
#191 XPS / Maxxis Tires / Can-Am Maverick X3's Kyle Chaney
"I really wanted to get out to an early lead but we came out of the holeshot in second to Jason Watt and I hurried and got around him before we entered the woods. I wanted to get out early and put a decent gap on everyone, which I did, and that definitely helped me when we had to stop and take the long pit to fix the light, it was nice to have some time early on in the race. The dust was incredibly bad, but the roughness of the track really got to me as well. It was beating me up and making me dizzy even, it was very challenging," said Chaney!
Team Dr. Powersports / JW Builders / DWT Wheels / Garage Products / Valentine Food's Jason Watt got off to a great start pulling the hole shot ahead of Chaney. A slight off-camber on the holeshot corner was all it took however for Watt's machine to tip up slightly, allowing Chaney to get around him. Watt was second into the woods section and the first to pursue Chaney, as closely as the dust plume would allow.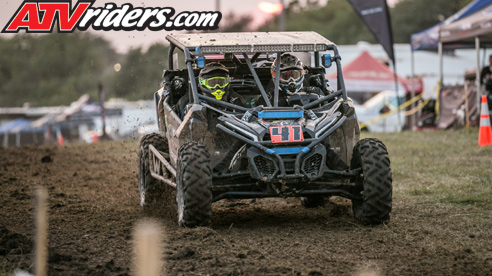 Team Dr. Powersports / JW Builders / DWT Wheels / Garage Products / Valentine Food's Jason Watt
I got off to a really good start. The X3 fired up immediately on that dead-engine start and we took off to snag the holeshot and then went into the woods in second behind Kyle. I closed in on him and was following as closely as I could with the dust. After we broke away from the pack a little bit, it was a pretty clear track and we decided to just try and run a smart and smooth race for the remainder of the four hours. We just tried to keep the car together and with the help from my co-pilot Cody Taylor talking me thru just about every corner out there really made a huge difference. My fiancé, with Jeremy and Rick Valentine in the pits making sure the car was good along with water and goggles. We took the challenge section the first lap and actually got hung up and then lap after learned how to get through it smoothly and put our head down and charged ahead. The sportsmanship is really great out here, if we came up onto someone going fast, they were always quick to move out of the way as fast as they could and let us by, everyone was super nice and we had an absolute blast out here," said Watt.
Team UXC / Polaris / RT Pro / Maxxis Tire's Kevin Trantham became the first recipient of a cloud of thick dust during the hole shot mayhem of Watt and Chaney, but quickly found himself up into third place by the time the woods section approached. Trantham pushed his Polaris RZR to the limit and also was taking advantage early on by not taking the challenge section and actually opted out of it to avoid the early carnage. This paid off for Trantham as he kept his car in one piece and was able to finish the race in third place.
Team UXC / Polaris / RT Pro / Maxxis Tire's Kevin Trantham