Rocky Mountain UTV Racing - Round Thee Report
::Continued::
In the Unlimited SXS race, Kyle Raley earned his first victory. Dillon Douglas and Keishi Ishida rounded out the podium. "We were running well and everything held up so it was good day," said Raley. "The turbo worked great. It ran well."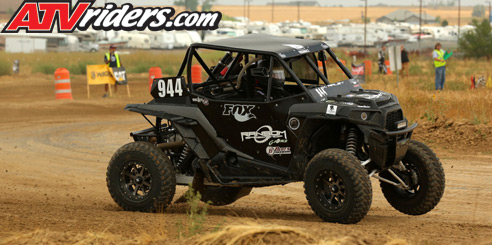 Kyle Raley claimed the Unlimited UTV class win
In Sportsman SXS, Don Mead drove his Yamaha to his first victory. Griffin Hanna was second, followed by James Faulkner.
Rocky Mountain UTV Racing Series - Youth UTV Podium (left to right)
James Faulkner (3rd), Don Mead (1st), Griffin Hanna (2nd)
"Experience made the difference today," said Mead. "I talked to a lot of the Pros and learned a lot. I took it off the start pretty hard. It was easy to get the holeshots. I'm going to try to make it to Grand Junction."
Don Mead claimed the win in the UTV Sportsman Class
In the Kids SXS race, Zavier Galaviz beat out Jake Goodrich and Hayden Defeyter for the victory.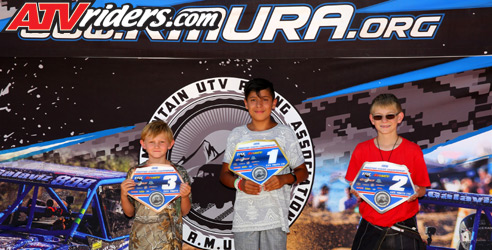 Rocky Mountain UTV Racing Series - Youth UTV Podium (left to right)
Hayden Defeyter (3rd), Zavier Galaviz (1st), Jake Goodrich (2nd)
"The track was surprisingly smooth and I liked that," said Galaviz. "I had trouble at the starts, but I was able to keep up with the front pack and take the lead early on. This is really fun. I love racing."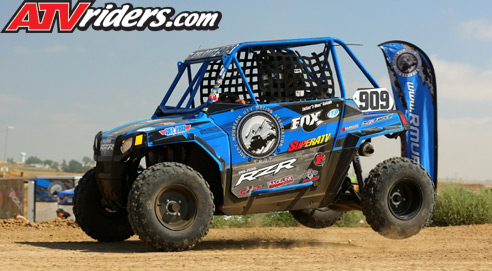 Zavier Galaviz charged his way to the front in both heat races to take the 1-1 overall win
The 2016 RMURA season finale is scheduled for September 24-25 in Grand Junction, CO.