Rocky Mountain UTV Racing - Round Thee Report
Dillon Pointon Goes 1-1 for Third Straight Overall Win
Rocky Mountain UTV Racing Association

Dacono, CO (8/9/2016) - Dillon Pointon won his third consecutive Rocky Mountain UTV Racing Association Pro SXS race at IMI Motorsports Park. Pointon remains unbeaten in his rookie RMURA season. Chris Deshon finished second, followed by Jeremy Brown, who recorded his first podium of the season.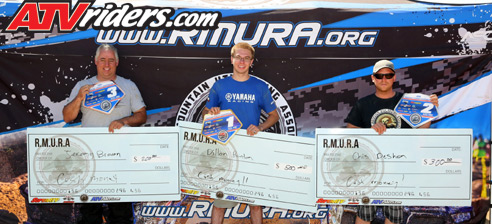 Rocky Mountain UTV Racing Series - Pro UTV Podium (left to right)
Jeremy Brown (3rd), Dillon Pointon (1st), Chris Deshon (2nd)
The event was run again in a two-moto format. Cool and overcast weather during the first moto broke into high temperatures and a slight breeze in the second moto. Pointon took the changing track conditions in stride, driving through the field in the first race and taking the lead on the final lap from Deshon. In the second moto, Brown ripped off the holeshot and held a dominating lead until Deshon, with Pointon in tow, took the lead briefly before Pointon took the victory.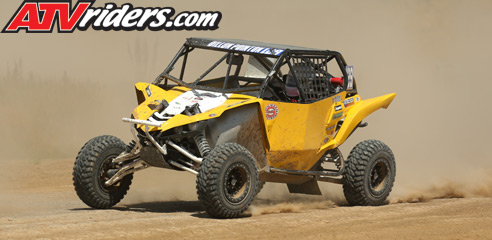 Dillon Pointon hasn't been able to get the jump off the line with his Yamaha, but he has shown his ability to charge through the pack at every round this year
"The Yamaha is treating us so well," said Pointon. "I'm still working on that holeshot…at every race. It's a learning curve for us out here and I'm learning every race. Chris is an amazing driver. He held me off for quite a while, and we just squeezed by. I just held the cushion while he was in the blue groove. Jeremy took off in the second moto. He and Chris tangled a little bit, so I got by Chris and then just past Jeremy."

Dillon Pointon made the last lap pass in Heat One to take the win over Chris Deshon
Pointon has disposed of every bit of convention this season in RMURA. The former shifter kart racer is in his first season of UTV racing, driving a Yamaha with a true manual transmission. Though he's had difficulties with starts all season, his finishes speak for themselves. "This track is so amazing," added Pointon. "Everything was so well prepped. RMURA is putting a great show on for us. I love having Yamaha in the game. Yamaha is going to do well going forward."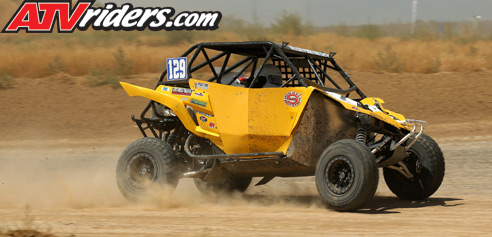 Dillon Pointon heads to Grand Junction, CO on September 25th looking to clinch the RMURA Championship & remain undefeated