Rodney VanEperen & CJ Greaves Take TORC Pro Wins
2017 TORC Off-Road Championship Round 3 Pro UTV Race Report
2017 TORC Series
Twin Cities Take Down


Elk River, MN (06/12/2017) - Greaves Motorsports teammates Rodney VanEperen and CJ Greaves again carried the Yamaha banner high as the pair won their respective UTV classes during the TORC Off Road Championship presented by AMSOIL race at ERX Motorpark. VanEperen won his second Pro Modified race, while Greaves remains unbeaten in Pro Stock, winning his third consecutive event.

Rounds 3 & 4 of the TORC Series headed to ERX Motorsports Park in Minnesota for the Twin Cities Takedown
The race was round three of the series and the first of a planned doubleheader weekend at the track just north west of Minneapolis. However, severe thunderstorms on Sunday forced officials to postpone Sunday's events. That round will is now scheduled to run as part of the season finale at ERX, scheduled for September 23-24.
The TORC doubleheader was cut short after a severe storm hit Sunday Morning with 70+ MPH Winds, which knocked out power, tilted over the control center, blew down trees and shredded dozens of awnings.
Abnormally hot conditions at purpose-built off-road facility on Saturday made for challenging racing on the combined dirt, clay and sand racing surface. The track featured several tight turns, a unique split-lane section, several jumps and technical whoops sections. With 14 laps on tap for the events, the races on the high-speed track thrilled the large crowd on hand, despite windy conditions and temperatures in the mid-90s.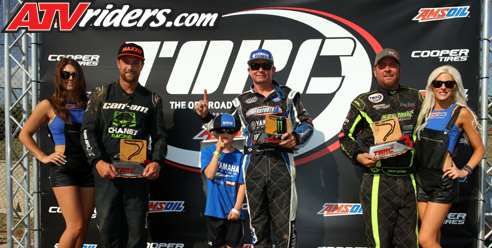 TORC Pro Mod SxS / UTV Podium (left to right)
Kyle Chaney (2nd), Rodney VanEperen (1st), Zach Szymik (3rd)
In Pro Mod, Tim Farr took the lead at the start in his Can-Am and looked destined to repeat his victory in round two. But VanEperen quickly moved in behind Farr. Pulling off a spectacular three-wide pass, VanEperen took the lead on lap three and began checking out, while Farr pitted with tire issues.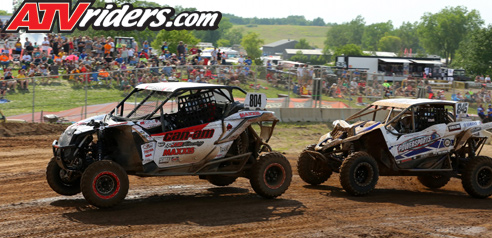 JB Racing's Tim Farr grabbed the early lead with Rodney VanEperen is chase for several laps
After the midway competition caution, VanEperen was strong on the restart, but the Can-Am of Kyle Chaney dogged him through the final seven laps. After a near crash on the final lap in a whoops section, VanEperen held on for the victory. Chaney was second, ahead of the Yamaha Zach Szymik. Zac Zakowski was fourth in a Yamaha, ahead of the Can-Am of Thomas Reiner.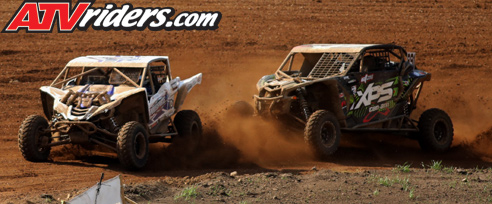 Yamaha's Rodney VanEperen held off Can-Am's Kyle Chaney late charge for the lead
"Farr had some issues and we took advantage of them," said VanEperen. "We had no radio communications, but I gave myself a mental note in staging that I was going to win, whether the radio worked or not."
VanEperen recovered from a mechanical issue in the last race to get the emotional victory. Finding perfect lines during the last three laps, VanEperen held off the charging Chaney to secure the finish.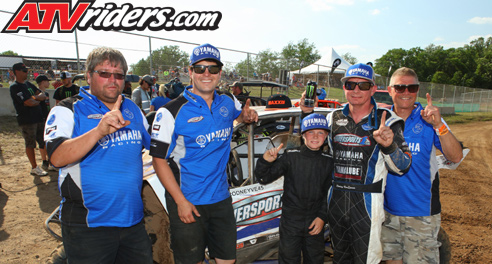 Yamaha's Rodney VanEperen held on to claim his second win of the season in the TORC Pro Mod UTV class
"I could hear someone back there and I knew I had no room to breath," said VanEperen. "I don't get emotional very often, but we were up to midnight last night and my crew deserves this one. This is the type of track all of us want to race on. This track isn't just about going wide open and drifting it in. It's about picking lines and being smart; it's a racer's dream."