TORC Round 5 Pro UTV Race Report
::Continued::
Chaney had to thrash just to make the race. In his shakedown run at home prior to the event, his team had to make an unscheduled engine change. Then he had an issue with his front differential in qualifying.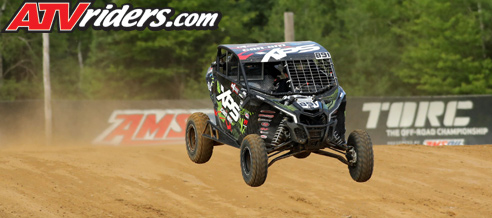 Can-Am's Kyle Chaney secured his 4th straight 2nd Place finish at Crandon to maintain his TORC Pro Mod UTV Points lead
"I took my car up and down the road to makes sure it was running OK and the next thing you know a cooling line popped off and we hosed the engine," explained Chaney. "We put a new engine it at 2 a.m. and left for Crandon at 6 a.m. I blew a front diff in practice. The Air Force team helped us weld it up and we got back up. The Can-Am team is great. Anytime someone needs something, we're there."
Tim Farr ran a consistent race throughout. Farr won here last year, but said the level of competition has been raised significantly this season. Farr thinks he's overcome mechanical gremlins that reared their heads at the last two races.
JB Racing's Tim Farr secured the final spot on the podium
"This track is really fast and we get a little better every time we race on it," said Farr. "It's all about commitment and confidence. The blue groove and the cushion make for a really crazy course. My Can-Am was awesome. I have a few laps around here, but the competition has changed a lot from last year. It's really a different ballgame. Up until this weekend, we've been working on problems. Now we can start working on setup and making the car better."
Elliott Burns was running just his second UTV race ever, driving a Can-Am sponsored by the United States Air Force and AMSOIL. The racing fabricator hung up his tools to get into the driver's seat and it paid off with a top five.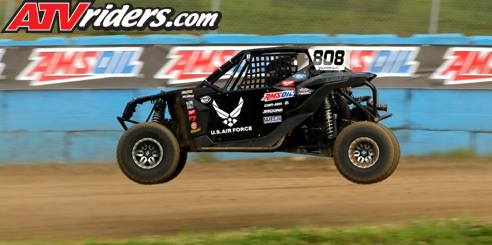 Amsoil's Elliott Burns secured a 4th place finish in only his second UTV race, which is an impressive start to his UTV racing career
"When I got past Zakowski it felt good to run up front with these guys in only my second race," said Burns. "We have a professional Snocross team and AMSOIL and the U.S. Air Force are part of that. They use it as part of their recruitment efforts and they love motorsports. I finally got the idea that I wanted to start wrecking stuff instead of fixing it. I've seen a lot of laps around Crandon, I've just never driven any. Hopefully, we can keep finding more speed and get into that top three tomorrow."
Zac Zakowski held off a charging Kevin Cutts in the waning laps to finish fifth. Zakowski started on the second row and made up several positions to snag the top five.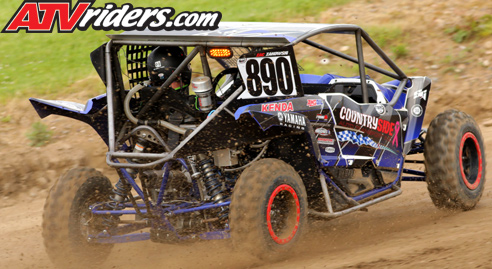 Kenda's Zac Zakowski rounded out the top five
"We started on the second row because our qualifying time wasn't what it needed to be, but we made up a lot of ground," said Zakowski. "I saw Kevin in my rearview mirror and he was all over the place. I was trying not to focus on him. On the last two laps, I flipped the mirror down and thankfully we kept him behind us."