Rodney VanEperen & CJ Greaves Take Crandon Wins
2017 TORC Off-Road Championship Round 5 Pro UTV Race Report
2017 TORC Series
Big House Brawl


Crandon, WI (06/25/2017) - Yamaha YXZ 1000R Racer's Rodney VanEperen and CJ Greaves pulled off another set of victories during the TORC Off Road Championship presented by AMSOIL UTV races at Crandon International Off-Road Raceway. VanEperen won his third Pro Modified race and Greaves remains unbeaten in Pro Stock, winning his fourth consecutive race.

Rounds 5 & 6 of the TORC Series is being held in Crandon, Wisconsin at Crandon International Speedway, which is known as the "Big House"
With cool weather punctuated by minor rain showers, the Crandon short course was fast. With dry-slick conditions and blue groove in the turns, qualifying was close foreshadowing what would be a pair of competitive 10-lap races.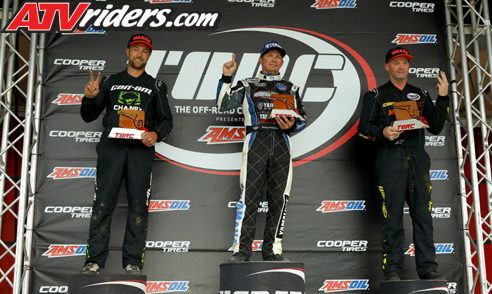 TORC Pro Mod SxS / UTV Podium (left to right)
Kyle Chaney (2nd), Rodney VanEperen (1st), Tim Farr (3rd)
In Pro Modified, Van Eperen took the lead off the land rush start. The Bikeman Performance Polaris RZRs of Treavis Poynter and Jason Luburgh were quick at the start and Luburgh even took the lead briefly on lap three before he fell back with a mechanical issue. Poynter then took over second and did everything he could to pass VanEperen.
Yamaha's Rodney VanEperen grabbed the land rush Pro Mod UTV Holeshot
After the competition caution at the halfway point, Poynter again pulled into VanEperen's mirrors with the Can-Am of Kyle Chaney in tow. However, Poynter's run was cut short on lap eight with a mechanical issue. From there, VanEperen held the lead through a slight bobble on the final lap to score victory, ahead of Chaney, who retains the points lead. Tim Farr was third in a Can-Am, followed by rookie driver Elliott Burns also in a Can-Am. Zac Zakowski was fifth in a Yamaha.
"We don't like to keep it that close, but we'll take it," said VanEperen. "I made that one mistake on the finish-line turn and we had a quick recovery. We have superior equipment and we believe that Yamaha makes the difference."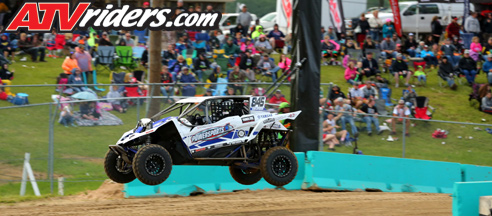 Yamaha's Rodney VanEperen held off some stiff competition to secure his third win of the season
VanEperen's son laid down some family rivalry before his dad took the start. The goading gave VanEperen an edge in the race. "My little guy got his third win today and told me he was ahead of me," said VanEperen with a laugh. "So he put the pressure on me. The course was awesome. Crandon always preps the track perfect for us. Racing out here in front of all of these people, I couldn't ask for anything more."
Kyle Chaney scored his fourth consecutive runner-up finish. Despite some good-natured ribbing from his fellow competitors, Chaney is happy with the consistency he's found this year in his Can-Am X3. Chaney overcame difficulties coming up to speed in qualifying to capture the podium finish.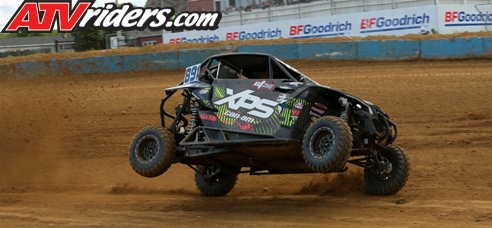 Can-Am's Kyle Chaney nearly flipped early in the race when he two wheeled through the finish line turn
"Consistency is great," said Chaney. "We still have the points lead and we had a super good battle with pretty much everyone. Treavis and I had a great battle out there. We had problems in qualifying and I wasn't used to this track. I didn't feel good going into today. But once the green flag went, it was on."