Bark River TORC Round 8 Pro UTV Race Report
::Continued::
Farr took the lap-two spin in stride and was quickly back in contention. Despite pulling every move he knew on the final two laps, he settled for second. Farr echoed Chaney's comments on setup.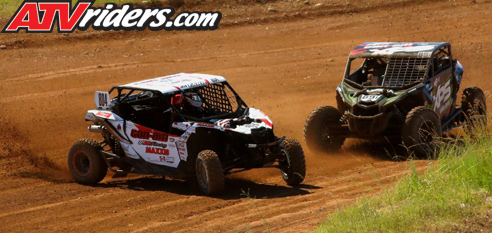 JB Racing's Tim Farr & Kyle Chaney collided coming over a jump, which dropped Farr out of the lead, but he held on to stay in the top four
"If you were able to stop halfway and change your setup, you'd be running two completely different setups; the track changes that much," said Farr. "I didn't see Kyle there. I came across that jump from the outside. He got into me and I was lucky to save it. It was a fun race, but I wasted too much time getting by the second place guy. I think I need to drive more aggressively."
VanEperen's charge from last to third was nothing short of miraculous. After noticing an engine issue after qualifying, VanEperen elected to change his modified engine for a stock powerplant for the race. VanEperen quickly showed why he has won five races this season.
Yamaha's Rodney VanEperen charged his way from the back of the pack after making an engine swap after the qualifier, but he charged through the field to secure the final spot on the podium
"We felt a little vibration in the motor at the end of qualifying," said VanEperen. "We're in the points right now, so we decided to change the motor. We threw in a stocker with a set of cams and that goes to show just how good these Yamahas are. It hurts to lose some points to Kyle, but it beats a DNF."
Luburgh backed up his fifth-place finish on the first day of competition here with a fourth on day two. Despite a 14th-place start after losing an axle in qualifying and then a tip over on the first lap, he recovered to snag his second top five of the weekend.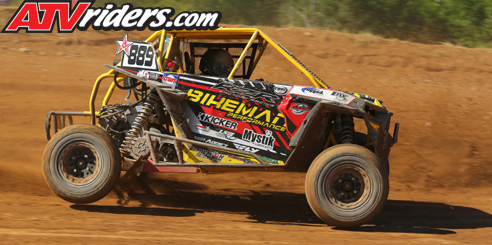 Bikeman Performance's Jason Luburgh charged his way to another 4th place finish in the Pro Mod UTV Class
"I got flipped on the first lap and luckily I was able to get back up by sawing the steering wheel back and forth," said Luburgh. "I was kind of angry at that point, and just wanted to make ground. Everything started clicking and I started to find some lines. I got up to the lead pack and made a run up to Rodney at the end of the race."