Kyle Chaney Takes TORC Round 8 Pro Mod UTV Win
CJ Greaves Claims 7th Straight Win at Bark River TORC
Bark River, MI (7/19/2017) - Can-Am driver Kyle Chaney finally put second place behind him and won his first Pro Modified UTV race of the season during TORC Off Road Championship presented by AMSOIL Throwdown in the U.P. at Bark River International Raceway. CJ Greaves won his seventh-straight Pro Stock race in his Yamaha.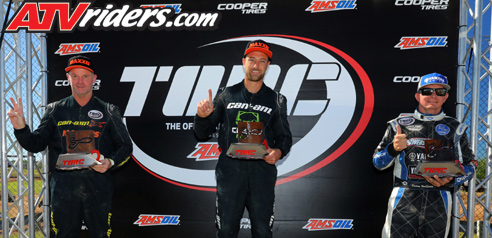 TORC Pro Mod SxS / UTV Podium (left to right)
Tim Farr (2nd), Kyle Chaney (1st), Rodney VanEperen (3rd)
Cool temperatures and clear skies greeted the racers on the second day of the doubleheader weekend. The circuit is one of the longest on the tour at 1.5 miles and each race was scheduled for eight laps with a competition caution at the midpoint of each event.
In the Pro Modified race, Tim Farr took the lead after grabbing the holeshot in his Can-Am. On lap two, Chaney took the lead after making contact with Farr in the esses. Farr spun and recovered, holding onto third as Zach Szymik took second.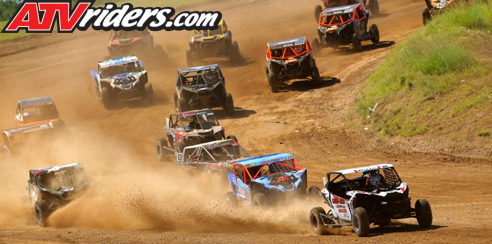 JB Racing's Tim Farr grabbed the early lead starting on the pole position
After the competition caution, Chaney held the lead and Farr moved up to second. Rodney VanEperen, who started last for an engine change after qualifying, was up to seventh. On the final lap, Farr challenged Chaney over the entire 1.5-mile course, but Chaney held on for the victory. Farr finished second, ahead of VanEperen's Yamaha. Jason Luburgh was fourth in a Polaris followed by his Bikeman teammate Drew Schultz.
Can-Am's Kyle Chaney held off Tim Farr to secure his first win of the season
Chaney has finished second in all six events prior to this one and was happy to finally get the victory. The win allows him to pad his points lead to 14 on VanEperen.
"Can-Am goes one-two and I pad my points lead…finally," said Chaney. "I came to this race expecting a win. We have some good points on Rodney now and that's some of the pressure off of me. I want to win more races, but taking a second or third is a little easier. The whole team has been good all year. I'm super happy with the Can-Am X3. We're taking a desert car and making it a competitive short-course car."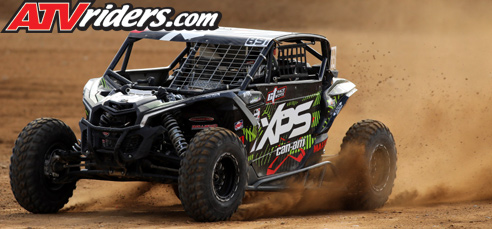 Maxxis' Kyle Chaney extended his points lead to 14 with his win at the Bark River TORC