Bark River TORC Round 8 Pro Stock UTV Race Report
::Continued::
In Pro Stock, Greaves took the lead from pole winner Dillon Pointon just after the lap-five restart and began to check out. Behind him the action was intense as Pointon, Drew Lunderby, Kenny Masch and Zach Martin were all fighting it out for second. Lunderby took third from Masch on lap six, but went wide two corners later and lost several spots, putting Martin to third.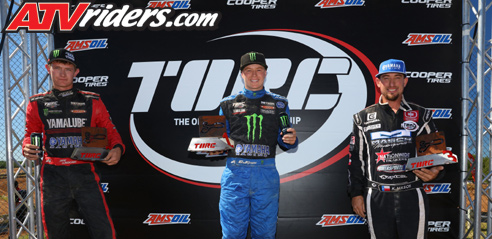 TORC Pro Stock SxS / UTV Podium (left to right)
Jake Lunderby (2nd), CJ Greaves (1st), Ken Masch (3rd)
On lap seven, Martin and Masch tangled, putting Lunderby to third. On the final lap, Pointon had a mechanical issue that took him out of contention, handing second to Lunderby. Masch was third, ahead of Martin and Reek. All were driving Yamahas.
Greaves has now won every race this season and owns a full-race lead in the points chase. He led a sweep of the podium by Greaves Motorsports Yamahas.
Yamaha's CJ Greaves charged his way into the lead in the second half of the race by making the pass on Dillon Pointon
"These Greaves cars are hard to beat," said Greaves. "I started on the second row and I knew I had my work cut out for me. It was hard to get around some guys because the track was really only one-and-a-half cars wide. It came down to making a clean pass. There is no better way to do it than to race them clean. I made all of my passes going into Cemetery Turn. It's a crucial turn. It has a double apex. It's hard to stay tight on the bottom, but if you can run the bottom it rewards you with a good run out."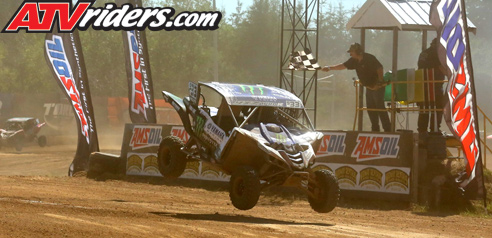 Monster Energy's CJ Greaves secured his 7th straight win in the Pro Stock UTV class as he remains undefeated
Lunderby, drove, beat, banged and charged his way into second at the end of the race. It marked his third podium of the season.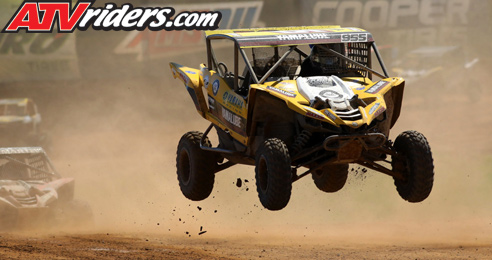 Yamahalube's Jake Lunderby secured the second spot on the podium
"It was really dusty," explained Lunderby. "I had a good run going and then I made some mistakes, but we pulled off a second. I just gave it all I could at the end. It's the last day and I wasn't holding anything back."
Masch's Yamaha was still damaged after a hard crash at the Crandon race. With hard work and determination, his team got the car "mostly" straight and he was competitive all race before snagging the final spot on the podium.
Ken Masch secured the final spot on the podium
"It's a war out there," said Masch. "We got the car straight enough to work out here, but it's still four inches off center. Dillon was on fire. He was hitting all of his marks and he's a young and aggressive driver. I was following him around and then CJ popped in and passed me."
Pointon led the first half of the race and looked to have the car to beat before the mechanical problem. He is already putting this race behind him and looking forward to the next one.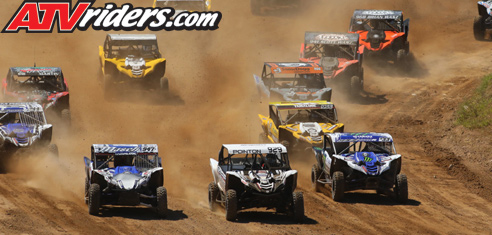 Dillon Pointon held the lead for the fisrt half of the race after grabbing the holeshot
"We were doing really well, but that's just racing," said Pointon. "We had a mechanical failure, but we'll come back at Redbud ready to go."
Yamaha has really become the brand to beat this season. In fact, YXZ 1000s have won all but two races all season in both classes. Yamaha's Donnie Luce is happy to see his company being represented well in TORC.
"It's great to see Yamahas running up front battling for those podiums," said Luce. "We're fortunate to be involved with CJ Greaves. He can come from the front and from the back. It's a real testament to the knowledge passed on from his dad. He showcases our product at the highest level."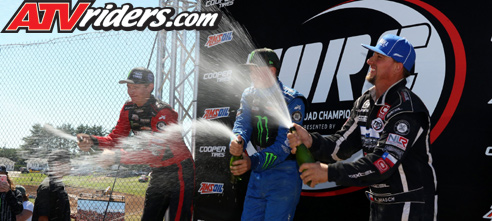 It will be nearly a month till the champagne sprays again at Rounds 9 & 10 of the TORC Series at Red Bud on August 12-13th in Michigan
After nearly a one-month break, the TORC Series will be back in action August 12-13. The Rumble at Redbud will be held at Redbud MX in Buchanan, MI.