2017 WORCS Racing
Round #3 - Honolulu Hills
February 19, 2017
Taft, California

David Haagsma Takes WORCS Pro SxS Win at Round 3
::Continued::
Maxxis' Ray Bulloch ran nose to tail with Baron for most of the race. Though he was able to catch Baron, he was unable to make that crucial move for the lead. He credited Baron with running a flawless race.
Walker Evans Racing's Ray Bulloch secured the 2nd Spot on the Pro Stock SXS Podium
"Beau earned it," said Bulloch. "He didn't make a single mistake. Beau and I battled to the bloody end. The track was brutal today. I hit a hole really hard in the asphalt section and saw stars. I got off the pace for a minute. After that I reeled him back in. I showed him a wheel a couple of times, but my hat is off to Beau. He ran a perfect race."
GBC Motorsports' Nic Granlund ran the same Yamaha he raced in the Pro SXS event. He said he simply hosed it off and raced it.
FOX's Nic Granlund secured the final spot on the podium to maintain the Pro Stock SXS Points Lead
"I was hanging with them for a couple of laps, but I had a get off and lost some momentum there," said Granlund. "The Yamaha just keeps on pushing. I raced it yesterday and I raced it today. It's been a good year."
In the Pro Women's race, Sparks Racing's Jennifer Broughton scored her first victory of the season. Emily Green and Giuliana Flowers completed the top three. All three were driving Polaris RZRs. Broughton said tuning and testing after the last race made the difference for her.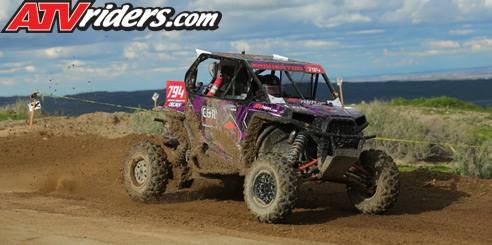 SSi Decal's Jennifer Broughton secured the Women's SxS Class Win at Honolulu Hills WORCS
"The track was super tight and there were only a few lines," explained Broughton. "Someone tipped over in front of me, I got around her and took off like a scared rabbit. We got some tuning done on it by Curtis Sparks. They got the car running super well and it made a huge difference. This felt good because I'm pretty confident in my driving, so it's nice to have a good car behind me."
The WORCS SXS racers next head to the brutal and exciting track in Lake Havasu City, AZ. That race is scheduled for March 17-19.