2013 Can-Am Maverick 1000R SxS / UTV Links
Logandale, NV (10/17/12) -Just over two years ago, Can-Am entered the SxS market with the Commander 800 and 1000 SxS / UTV, which is a great all-round SxS, but for 2013, Can-Am has raised the bar in performance with the release of the high performance Can-Am Maverick 1000R and X RS SxS / UTV models.
In September, Can-Am announced the Maverick at the Sand Sport show in California, and now just about a month later, the media had the opportunity to test drive the pre-production models of the Maverick on the Logandale Trail System just an hour north of Las Vegas, Nevada.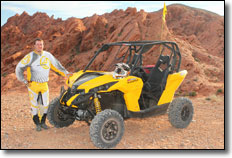 2013 WORCS SxS Champion Ryan Piplic test drove the 2013 Can-Am Maverick 1000R SxS for ATVriders.com
ATVriders.com invited the 2012 WORCS SxS Champion, Ryan Piplic, out to test drive the Maverick 1000R, since he won the championship in a nearly stock Polaris RZR XP 900, which is the direct market Can-Am is going after with their new Maverick 1000R SxS as the high performance SxS market continues to grow and expand with new offerings each year in this evolving market.
The Logandale trail system proved to be the perfect location for testing out the Can-Am Maverick 1000R and Maverick 1000 R X rs with its diverse and beautiful landscape.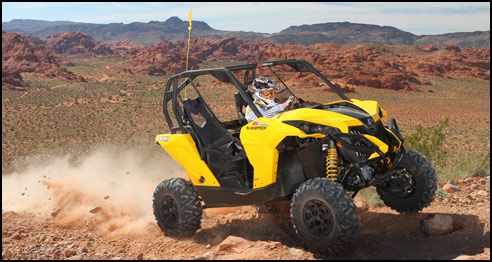 Can-Am chose to use the Logandale Trail System in Logandale, NV as the testing grounds for the media to first drive the 2013 Can-Am Maverick 1000R SxS. Logandale OHV Trail system features some of the most diverse & beautiful terrain in the United States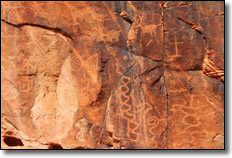 Not only was the Logandale Trail System a perfect testing ground to drive the Can-AM Maverick 1000R we got to check out some of Logandale's Native American history in the form of petroglyphs along the many trails at Logandale
It features a variety of terrain including awesome red rock formations, sand dunes, hill climbs, rocky desert sections, whoops and more, which allowed us to really test out what the Maverick 1000R had to offer. We also had a chance to check out some history by visiting the site of some Indian petroglyphs along with spotting a desert big horn sheep on our test drive.
When we arrived at the ride location, we first did a walk around on the Maverick to check out its features. The interior of the Maverick is identical to its cousin the Can-am Commander and we would describe the design as being similar to what you would find in mid-size pick-up truck.