Glamis, CA (11/14/2014) - Recently ATVriders.com was invited out to southern California to test drive the new 2015 Can-Am Turbo Charged Maverick 1000 in the famous Glamis Sand Dunes. Having worked with ATVriders.com for many years, I (Shawn Hess) jumped at the opportunity to test drive Can-Am Maverick Turbo. It had been 10 years since I made the trek to Glamis from Texas. I spend most of my weekends racing ATVs and UTVs, so I just hadn't been able to make the 23 hour drive in a while. This trip would be much different for me as I got to fly out, and ride a UTV that wasn't mine. I didn't even have to haul my toys out for this event.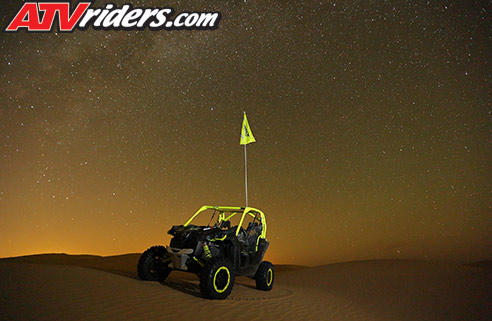 We had a chance to ride the new 2015 Can-Am Maverick Turbo at the Glamis Sand Dunes
I flew into San Diego, which was my first time there and met the crew at the Hilton Inn & Suites in the Harbor Island Drive Park. That evening Can-Am treated us to an amazing dinner where we enjoyed cocktails and everything from crab cakes to a perfectly cooked filet mignon. We spent the evening catching up and meeting everyone from the other media outlets. I was fortunate enough to meet Brian Fisher and his wife Melissa of Fisher's ATV World, and Dave Kuskie of Fullerton Sand Sports. We all hit it off really well. Everyone turned in early that night, we were all eager to get out to the dunes so we could try out the new Can-am Maverick Turbo!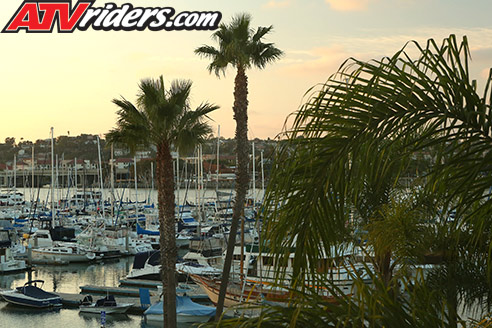 We flew into San Diego and ate dinner and had cocktails with Can-Am by the bay before making the two hour and a half hour trek to the Glamis Sand Dunes the next day
The next morning following our 2.5 hour drive, we arrived at the Glamis sand dunes, and sitting there ready to go were 20 brand new bright green and black 2015 Can-am Maverick Turbo 1000 SxS machines. It was all I could do to keep from just jumping in one right then and taking off. We all quickly settled into our campers, and gathered for a quick overview of the new Can-Am Maverick.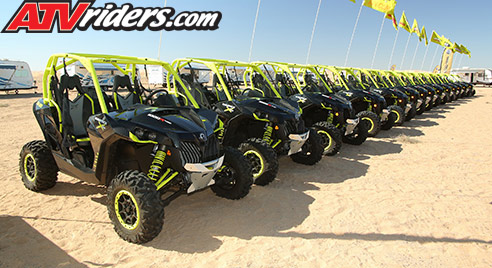 Can-Am had twenty 2015 Can-Am Maverick Turbo Side-by-Sides for us to crave up the legendary Glamis Sand Dunes with
The 2015 Can-Am Maverick Turbo features a 976cc, Rotax 1000R V-Twin engine that is paired with the industries first factory installed turbo on a SxS. This powerful combination produces an impressive 121 horsepower, which is 10% more power and 40% more torque than the non-turbo Can-Am Maverick.
The 2015 Can-Am Maverick Turbo is the first and only SxS that comes straight from the factory with a Turbo. You can see turbo intercooler in the middle of the seats
Can-Am also redesigned the rear Torsional Trailing A-Arms on the Can-Am Maverick Turbo that allowed the rear shock mount to be moved from the upper A-arm to the lower giving the Maverick a much longer and more tunable rear shock with 16 inches of travel.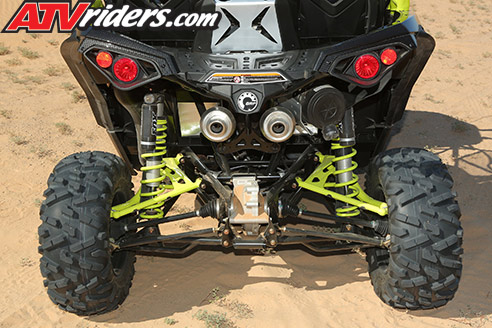 The 2015 Can-Am Maverick Turbo comes with redesigned rear Torsional Trailing A-Arms to be able to use the long and more tunable FOX 2.5 Podium RC2 shocks