San Bernardino, CA (8/28/2014) - While many manufacturers have chosen to make their newest Side-by-Side vehicles bigger by adding more passenger capacity and upping the CC's to the engines, Honda has taken a new approach, showing that bigger is not necessarily better, by introducing the new compact 2015 Honda Pioneer 500.
The new 2015 Honda Pioneer 500 is similar to the Pioneer 700, but has a few unique features that distinguish it from the rest of the field, including a compact design, a 5-speed manual transmission and paddle shifters. Honda's marketing campaign for the Pioneer 500 is "compact, affordable and fun"; we think that fits it perfectly.
We were recently invited out to the foothills of the San Bernardino Mountains in southern California at Miller Canyon just north of Silverwood Lake to check out the Honda Pioneer 500 and see what it has to offer. The folks at Honda had a 25 mile test loop planned out for us that started at an elevation of about 3500 ft and went up to about 5000 ft. The high desert region of southern California was hot and dusty for our ride, but there was a nice wind blowing to take the dust off the course. The terrain featured many elevation changes, and tight, technical trails that suited the Pioneer 500's impressive less than 13 foot turning radius quite well.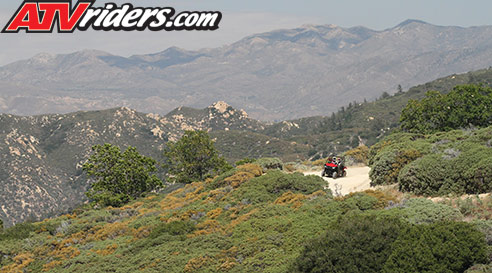 We test drove the all-new Honda Pioneer 500 in the foot hills of the San Bernardino Mountains in Southern California
One of the first things we noticed about the Honda Pioneer 500 was how easy it is to load up. The dimensions of the UTV are 102.5" overall length with a 73.1" wheelbase, and 50" wide. Because of its smaller size it can easily fit in the back of a full sized pickup truck or smaller flat bed trailer. This narrower width also allows the vehicle to go on tighter and narrower trails as well as easy access to narrow spaces around barns or through the tighter gates on a ranch.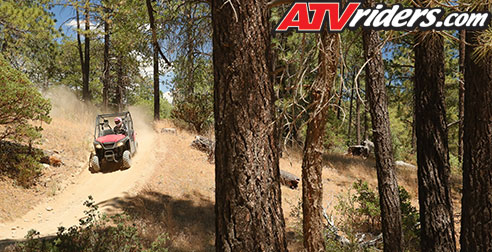 The 2015 Honda Pioneer 500 is at home in the woods with its 50" width, it can do down all the trails that an ATV can
The fuel injected engine of the Pioneer 500 was inspired by the Honda's Foreman 4X4. In addition to a five-speed automatic automotive-style transmission, the engine's power is sufficient for the Pioneer 500 and its suited purpose. Honda's reasoning for a five speed automatic transmission was to ensure the reliability that they are noted for. While many belt driven transmissions are high maintenance and can wear out, the five speed transmission offers the longevity that Honda's loyal customers have come to expect.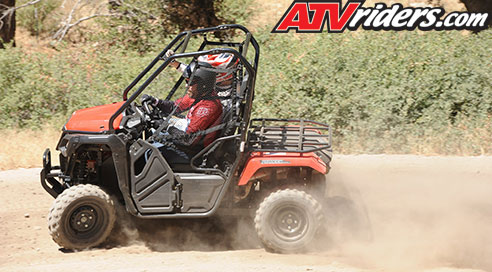 The Honda Pioneer 500 has an automotive style transmission with five gears instead of using a belt driven transmission like most SxS models